SuperSC miniature load cell by Interface: high force, compact design
November 7, 2023 REDWIRE is news you can use from leading suppliers. Powered by FRASERS.
Posted by Durham Instruments
One Source For All Your Quantitative Measuring Needs. With Over 50 Yrs.Of Experience In The Instrumentation Field. It Of... Read more
Related Topics
Related Sectors
Subscribe
Free REDWIRE e-newsletter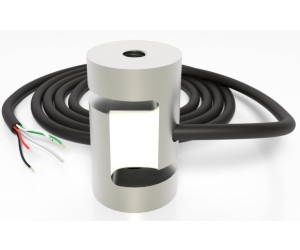 The Interface SuperSC S-Type miniature load cell
Interface Force Measurement manufactures a wide selection of industrial test and measurement solutions that are available to Canadian businesses from Durham Instruments. For instance, the SuperSC S-Type miniature load cell is an innovative device that offers high force in a compact design, as well as high stiffness and low deflection.
An economical, environmentally sealed, general-purpose miniature load cell, the SuperSC S-Type is insensitive to off-axis loading and available in capacities that range from 100 newtons to five kilonewtons.
Submersible and fatigue-related models
The device is designed with an IP66 rating, with IP68-rated models planned for release in the near future. Options available for this miniature load cell include standardized output and special calibrations (ISO 376, E74, and five-point). A high-temperature version is available too, for applications involving heat of up to 148 degrees Celsius. Interface also manufactures submersible and fatigue-rated (half-output) models. Users can connect a 1½-metre integral cable to the instrument, and pre-installed rod end bearings (REB-204 for metric tasks) can be obtained as accessories.
Three models of the SuperSC S-Type miniature load cell are available – the Model SSC-25LBF, the Model SSC-250LBF, and the Model SSC-500LBF. Technical specifications of these instruments include the following:
Accuracy: nonlinearity of plus or minus 0.1 per cent FS, hysteresis of plus or minus 0.1 per cent FS, maximum creep of plus or minus 0.05 per cent in 20 minutes.
Bridge resistance: 350 ohms (nominal).
Compensated temperature range: -15 to 65 degrees Celsius.
Effect on output: plus or minus 0.001 per cent per degree Fahrenheit.
Effect on zero: plus or minus 0.0035 per cent RO per degree Fahrenheit.
Excitation voltage: 15 VDC MAX.
Operating temperature range: -55 to 90 degrees Celsius.
Rated electrical output: plus or minus 15 per cent millivolts per volt (nominal).
Zero balance: plus or minus five per cent RO.
A versatile device, the SuperSC S-Type miniature load cell is compatible with applications in numerous industries. Durham Instruments deems it suitable for use in general manufacturing, aerospace, automation, food processing, pharmaceuticals, education, the medical field, packaging, power generation, alternative energy, transportation, and research and development.
To learn more, contact Durham Instruments.
---
Share
Posted by Durham Instruments
One Source For All Your Quantitative Measuring Needs. With Over 50 Yrs.Of Experience In The Instrumentation Field. It Of... Read more