Fraba subsidiary announces breakthrough in Wiegand technology for energy harvesting
January 23, 2023 REDWIRE is news you can use from leading suppliers. Powered by FRASERS.
Posted by FRABA Inc
POSITAL-FRABA, based in Hamilton New Jersey, is the North American member of the international FRABA Group, a family of... Read more
Related Topics
Related Sectors
Subscribe
Free REDWIRE e-newsletter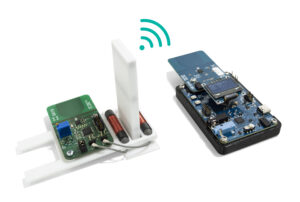 Prototype with huge potential: The world's first wireless IoT sensor node based on Wiegand technology. (Left: The two Wiegand Harvesters between the bar magnets (inside the white enclosure) and the transmitter board with microcontroller, temperature sensor and UWB transmitter module. Right: The receiver station located 60 metres away, collecting the data by radio).
Wiegand technology was developed by the Fraba group of companies as an energy source for smart sensors. In September, Fraba member UBITO announced a breakthrough in Wiegand technology after more than two years of work at the parent company's research and development centre in Germany: a team demonstrated a prototype of a wireless sensor that can participate in an Industry 4.0 network – a world first in energy harvesting.
Energy source for sensor nodes
Wiegand technology collects energy from movements of an external magnetic field. This project involved the creation of a new Wiegand Harvester that can capture sufficient energy to power the new sensor's electronics package, including a high-efficiency ultra-wide-band radio transmitter. This achievement positions Wiegand technology among established energy-harvesting methods like solar, piezo, and thermos-electrics as an energy source for sensor nodes in Industry 4.0.
The UBITO research team chose a window sensor system for a practical demonstration of an Industry 4.0 sensor node powered by Wiegand-harvested energy. The participants mounted two Wiegand harvesters and associated electronics on the window with bar magnets mounted on the frame. Made of 21-millimetre pieces of Wiegand wire surrounded by copper coils, the harvesters would pass the magnets whenever the window was opened or closed, triggering abrupt magnetic polarity changes in the wires.
The amount of energy delivered was largely independent of how quickly the window was moved. The current pulses these polarity reversals induced generated about ten microjoules of energy. This achieved a key goal for Fraba – the amount of captured energy was enough to activate a microcontroller and collect a reading from a temperature sensor built into the system. The research team added an ultra-wide-band transmitter module that could transmit 134 bytes of data to a receiving station 60 metres away.
UBITO presented this lab demonstration in April at EnerHarv 2022, an annual event that showcases the latest energy-harvesting trends and innovations. The demonstration marked a new milestone towards self-sufficient Wiegand-based Industry 4.0 sensor nodes. Wiegand sensors have remained a core part of UBITO products for more than 15 years, with fuller potential to be explored.
For more information, contact POSITAL.
---
Share
Posted by FRABA Inc
POSITAL-FRABA, based in Hamilton New Jersey, is the North American member of the international FRABA Group, a family of... Read more