With its recent acquisition and expansion, Denso continues to grow
October 6, 2021 REDWIRE is news you can use from leading suppliers. Powered by FRASERS.
Posted by Denso North America Inc
Worldwide Suppliers Of Anti-Corrosion, Waterproofing & Sealing Systems For Pipeline Coatings, Steelwork Protection,... Read more
Related Topics
Related Sectors
Subscribe
Free REDWIRE e-newsletter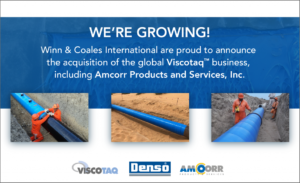 Denso now shares a parent company with Amcorr.
Denso North America has prevented corrosion in industrial applications for more than 90 years, and it continues to grow today. The company recently announced that Winn & Coales International Limited, its parent company, has acquired the global Viscotaq business, including Amcorr Products and Services Inc., which manufactures visco-elastic protective coatings.
In addition, Denso recently opened a second Canadian location in Edmonton, including a state-of-the-art training facility for product certification.
Corrosion protection on vital infrastructure
Founded in San Antonio, TX in 2000, Amcorr formulates and produces Viscotaq technology, with a patented product lineup used for corrosion protection and sealing on vital infrastructure in numerous industries. Viscotaq offers a unique, self-healing technology with outstanding, long-term protection. Over the last two decades, Amcorr has developed into the continent's market leader of visco-elastic coatings and sealants against corrosion.
"We feel honoured being part of the Winn & Coales family now," says Amcorr president Edwin Welles, co-inventor of Viscotaq technology. "A similar business culture with a privately owned structure and a technology-driven mentality was a natural fit for us. The acquisition will give Amcorr the opportunity to grow rapidly, both nationally and internationally, and above all, guarantee dedicated service and supply to existing and future clients across the globe.
"I personally feel privileged to make the next step in my career at Winn & Coales, a leader in our industry with an outstanding reputation," Welles adds.
"The acquisition of Amcorr is particularly exciting for the company," notes Winn & Coales chairman Chris Winn, "as the Viscotaq product line enhances and complements our existing range of coatings, which are already well established in the market."
The Winn & Coales International Group has created bespoke and off-the-shelf solutions for anti-corrosion and anti-chemical protection for more than nine decades. Amcorr is a perfect fit with the corporation's focus on offering the highest-quality corrosion-prevention products.
Covering 12,000 square feet in Edmonton, the new Denso facility includes both office and warehouse space, with a large inventory of petrolatum tapes, SeaShield marine systems, sealing mastics, road products, liquid coatings, and Viscotaq self-healing coating.
To learn more, contact Denso.
---
Share
Posted by Denso North America Inc
Worldwide Suppliers Of Anti-Corrosion, Waterproofing & Sealing Systems For Pipeline Coatings, Steelwork Protection,... Read more