Zimmerman balancers by Ingersoll Rand make lifting easy and safe
February 17, 2021 REDWIRE is news you can use from leading suppliers. Powered by FRASERS.
Posted by Dobco Equipment Ltd.
Dobco Equipment Ltd. teams up with Ingersoll Rand (IR) to supply the latter's world-class construction tools in Canada,... Read more
Related Topics
Related Sectors
Subscribe
Free REDWIRE e-newsletter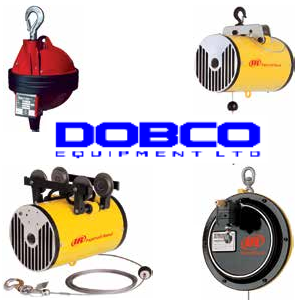 The different models of balancers available.
Dobco Equipment Ltd. teams up with Ingersoll Rand (IR) to supply the latter's world-class construction tools in Canada, backed by IR's century and a half of experience. The lineup includes Zimmerman balancers – ergonomic devices that offer a safe, comfortable way of lifting and handling extremely heavy materials and objects.
There are three main categories of balancers available under the Zimmerman brand: pneumatic balancers, intelligent lifting systems, and mechanical spring balancers.
Precise and strain-free positioning
Zimmerman balancers offer many innovative features that make them ideal for lifting items of up to 2,000 pounds. Their precise and strain-free positioning allows the user to raise, lower, or shift loads with virtually no resistance with free hands. Pneumatic models give easy access to airflow-calibration controls, which enables simple float adjustment, and the built-in overload protection ensures that the lifted load never exceeds the unit's maximum rated capacity – keeping the workers safe. Yet another advantage is the centrifugal brake, which automatically halts fast upward cable travel when workers accidentally lose loads.
The InteLIFT series is a key examples of IR's selection of intelligent lifting systems. These balancers convert intuitive user input into smooth, effortless vertical motion, and a major benefit is a force-sensing control handle that responds to operator input quickly and seamlessly for exact positioning of loads of up to 1,000 pounds. Three different speeds are available for varying applications and use comfort levels.
For the third line of Zimmerman balancers, the mechanical spring balancers, there are 50 models in five different series, so that users can select specific models for their unique applications. These devices can lift loads as heavy as 363 pounds with heights from five to nine feet, and each one has controls for accurate spring adjustment that are simple to use. Because of the "gravity-free" effect, intermediate, heavy, and super-duty versions can be moved with little effort. Mechanical spring balancers also have safety locking devices that prevent sudden dripping when springs fail.
For the best in pneumatic, electric, and hydraulic tools, businesses are wise to put their trust in IR products from Dobco.
To learn more, contact Dobco.
---
Share
Posted by Dobco Equipment Ltd.
Dobco Equipment Ltd. teams up with Ingersoll Rand (IR) to supply the latter's world-class construction tools in Canada,... Read more
Related Topics
Related Sectors