Whitepapers by EXAIR serve customers as the perfect product resources
September 14, 2022 REDWIRE is news you can use from leading suppliers. Powered by FRASERS.

Posted by Exair Corporation
EXAIR's compressed air products are designed to improve the overall efficiency of your operations. Intelligent Compresse... Read more
Related Topics
Related Sectors
Subscribe
Free REDWIRE e-newsletter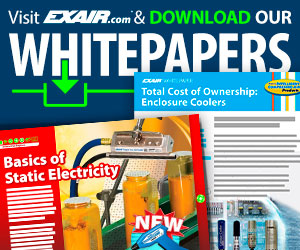 EXAIR whitepapers keep customers informed.
EXAIR Corporation is renowned across North American industry for its portfolio of compressed-air equipment. The company's website, EXAIR.com, provides a variety of resources to help customers to make informed decisions. A key example is the site's collection of whitepapers, which help to educate visitors on a broad range of subjects.
Accessible to customers simply by logging in to the website, these whitepapers are highly educational resources on EXAIR products and how to use them most effectively.
Facts combined with detailed research
These whitepapers offer detailed explanations about many subjects related to EXAIR solutions, each in an easy-to-download PDF file. They help customers gain a better understanding not just of the products, but of the principles that make them work. Readers get a fuller understanding of why intelligently engineered products are so efficient and powerful.
By definition, a whitepaper is a research-based explanation of a specific topic that provides all of the information a reader requires on that subject to solve a problem or to make an informed choice. EXAIR engineers use facts combined with detailed research to write these whitepapers, to educate readers on complex subjects associated with these products. Readers can learn about the basics of static electricity, compressed-air safety, the benefits of cabinet coolers, and more, with an elaborate look at some of the principles and frequent industry issues that result in the development of quality-specific EXAIR products.
Whitepapers are not the only tool that EXAIR provides to inform and educate clients in its Knowledge Base. There are multiple avenues that arm EXAIR customers with a full understanding of the manufacturer's products and their advantages. Examples include answers to frequently asked questions, three-dimensional models and computer-assisted designs, air-savings calculators, slide presentations, performance data, videos, and an Application Database with more than 1,000 solutions to learn how intelligent compressed-air products can boost operations. To start using these resources, simply log in to EXAIR.com.
Based in Cincinnati, EXAIR has designed, manufactured, and supplied an unsurpassed range of industrial compressed-air solutions since 1983. Among the options available are static eliminators, spray nozzles, cabinet coolers, air guns, air knives, and air amplifiers.
---
Share

Posted by Exair Corporation
EXAIR's compressed air products are designed to improve the overall efficiency of your operations. Intelligent Compresse... Read more
Related Topics
Related Sectors