White paper by EXAIR discusses compressed air generation, conservation
February 19, 2021 REDWIRE is news you can use from leading suppliers. Powered by FRASERS.

Posted by Exair Corporation
EXAIR Corporation has been the top source of industrial equipment for compressed air generation for close to four decade... Read more
Related Topics
Related Sectors
Subscribe
Free REDWIRE e-newsletter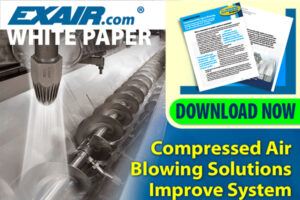 A new EXAIR white paper examines compressed air.
EXAIR Corporation has been the top source of industrial equipment for compressed air generation for close to four decades. Among the company's many compressed-air solutions are air guns, knives, and nozzles, plus static eliminators, vacuum generations, and cabinet coolers – and the portfolio keeps growing as EXAIR keeps developing new innovations.
But compressed air is a limited resource, and waste is an important issue. In a new white paper, "Compressed Air Open Blowing", the EXAIR team discusses ways that its customers can reduce and conserve compressed air.
As important as water
In most industrial facilities, compressed air generation is just as important as a water supply. This finite resource is typically generated in-house for the use of various operations within a manufacturing environment. So it is vital for a business to learn how to ensure that all point-of-use applications are using compressed air in the most efficient and effective way possible.
If a company is using an open, unchecked water pipe to cool a machining process, an excessive amount of water would start to pool on the floor, making it clear to see. This would make it obvious that the user should test lower flow rates in order to save water and reduce costs, while still cooling the part effectively. The situation is different with open compressed air generation, though. If compressed air is used for this same process, it is far more difficult to determine the large amount of compressed air that could be wasted if used in excess.
This is why compressed-air users must consider some means of conserving this resource and reducing the costs. In "Compressed Air Open Blowing", EXAIR draws from its expertise to show how much it costs to produce compressed air and the options available for reducing wasted air, while still getting optimal performance out of the company's equipment.
The white paper can be downloaded at this link, following a brief user registration.
Based in Cincinnati, EXAIR has designed, manufactured, and supplied compressed-air equipment for industrial plants since 1983. Options available from the company include air guns, vacuums, atomizing nozzles, cabinet coolers, and much more.
---
Share

Posted by Exair Corporation
EXAIR Corporation has been the top source of industrial equipment for compressed air generation for close to four decade... Read more
Related Topics
Related Sectors