Vibra Finish Limited's Job Shop Provides a Wealth of Finishing Services
November 22, 2021 REDWIRE is news you can use from leading suppliers. Powered by FRASERS.
Posted by Vibra Finish Limited
Vibra Finish Limited is a manufacturer of vibratory finishing, centrifugal finishing, tumbling, separating, vibro-peenin... Read more
Related Topics
Related Sectors
Subscribe
Free REDWIRE e-newsletter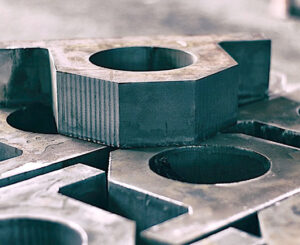 Vibra Finish Limited uses many different machines for production finishing.
For more than 45 years now, Vibra Finish Limited has served Ontario metal manufacturers with production-finishing services and machinery. The company's Job Shop is equipped to handle any mass finishing task a client may require, using various types of finishing machinery and with application of media or compounds as well.
From vibrapeening to deburring
Vibra Finish Limited has four plants that offer production-finishing services seven days a week, with more than 150 pieces of finishing equipment at its disposal.
Finishing services in the Job Shop include deburring, burnishing, peening, vibrapeening, polishing, rust removal, cleaning, drying, and protection from corrosion. Other valuable services available in Vibra Finish Limited's production-finishing department include deburring, tumbling, vibratory or centrifugal finishing, washing, blasting or shot blasting, sorting and packaging, and assembly. It is a one-stop shop for every conceivable kind of metal finishing technique.
Five distinct types of finishing machinery that Vibra Finish Limited uses:
Vibratory Bowls – These days, there are different types of vibratory bowls designed for different applications. Batch bowls produce shorter cycles and have a faster turnaround; flow-through bowls create a uniform action in the machine with maximum dwell times; and flat-bottom bowls have maximum vibratory efficiency and improved ergonomic design, both of which maximize productivity.
Vibratory Dryers – Vibra Finish Limited's corn cob dryer transfers heat directly with efficient electric heating elements, with a temperature controller to provide heat when required. Although designed as stand-alone machines, these dryers can also be connected to vibratory deburring or burnishing machines.
Vibratory Tubs – Long low-profile tubs are generally used for long narrow parts, and some have compartments that prevent parts from hitting each other; larger parts can be processed in deeper-profile tubs. One can also use these tubs for part-on-part self-tumbling.
Material-Handling Equipment – This includes bin dumpers, conveyors (some with hot air blow-off), dip tank dragout systems (for rust removal), and load hoppers, all used to expand and automate the finishing system.
Centrifugal Finishers – Useful for small, flat parts that may stick together, these machines have a treatment intensity up to 20 times higher than regular vibratory finishing processes.
For more information, contact Vibra Finish Limited.
---
Share
Posted by Vibra Finish Limited
Vibra Finish Limited is a manufacturer of vibratory finishing, centrifugal finishing, tumbling, separating, vibro-peenin... Read more
Related Topics
Related Sectors