Vibra Finish Limited Offers an Innovative Vibratory Peening Process for Customers
August 2, 2022 REDWIRE is news you can use from leading suppliers. Powered by FRASERS.
Posted by Vibra Finish Limited
Vibra Finish Limited is a manufacturer of vibratory finishing, centrifugal finishing, tumbling, separating, vibro-peenin... Read more
Related Topics
Related Sectors
Subscribe
Free REDWIRE e-newsletter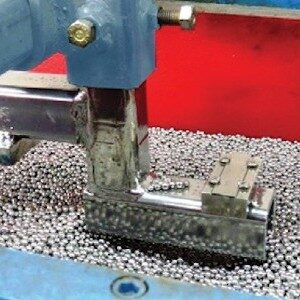 Vibratory peening is a fairly new finishing technique.
Businesses trust Vibra Finish Limited for top metal-parts finishing, especially with its wide variety of services, such as peening. An unconventional and relatively new technique is the vibratory peening process, which achieves deeper compression than conventional shot peening does, among other benefits.
An article in The Shot Peener discusses the studies and experiments that Vibra Finish Limited has conducted around this method.
Comparative tests on conventional components
According to the article, Vibra Finish Limited has conducted multiple studies to verify the facts and define the limits of the vibratory peening process. This included identifying industrial and domestic components that might benefit from fatigue resistance and superior surface finish in one step. As the company operates standard shot-peening machines, the experiments compared both methods under the same process variables.
Inspired by a 2017 Polytechnique Montreal study on fatigue life improvements of a certain alloy under both processes, Vibra Finish Limited conducted comparative tests on a turbine blade and automotive transmission gear. The goals: to compare the effects of both methods on both open and relatively closed geometries, to learn the limits of certain part types; to compare surface roughness; and to observe residual stress and the nature of curves.
Vibra Finish Limited carried out conventional shot peening in an automated airblast machine under specific process parameters, while vibratory peening was conducted with single-size steel balls, each three millimetres in diameter, in a batch-type tub for a ten-minute cycle. Surface roughness was similar in both techniques, except for in the root section of the gear, which presented a much rougher surface following shot peening. In addition, the geometry of each component had a notable effect on the level of magnitude of residual stress; the drop in residual stress when going deeper into the part was more drastic with shot peening, while gradually declining with vibra-peening – implying superiority of the latter method.
In conclusion, the vibratory process exhibits plenty of potential in terms of combining smooth profile and compressive stress in one step. Although not yet governed by a specification, this technique could become an important finishing benefit in the future.
To learn more, contact Vibra Finish Limited.
---
Share
Posted by Vibra Finish Limited
Vibra Finish Limited is a manufacturer of vibratory finishing, centrifugal finishing, tumbling, separating, vibro-peenin... Read more
Related Topics
Related Sectors