Versa-Matic FDA-compliant pumps are ideal for food, personal-care use
February 14, 2020 REDWIRE is news you can use from leading suppliers. Powered by FRASERS.

Posted by York Fluid Controls Ltd
For more than 35 years, Versa-Matic has served as a major producer of air-operated double-diaphragm pumps, or AODD pumps... Read more
Related Topics
Related Sectors
Subscribe
Free REDWIRE e-newsletter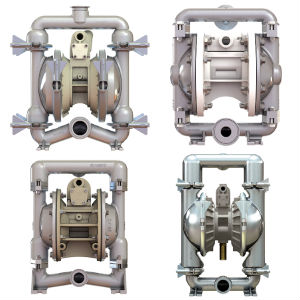 York Fluid Controls carries five sizes of Versa-Matic's FDA-compliant pumps.
For more than 35 years, Versa-Matic has served as a major producer of air-operated double-diaphragm pumps, or AODD pumps, and York Fluid Controls supplies these innovative solutions in Canada. One of Versa-Matic's more popular products is its line of FDA-compliant pumps – AODD pumps that meet the standards of the United States Food and Drug Administration. These units come recommended for hygienic applications, especially in the food-processing and personal-care industries.
Exceptionally cleanable, easy to maintain
Versa-Matic's FDA-compliant pumps have been the trusted solution for food-processing facilities for decades, as this market requires shiny, highly polished surface finishes. Not only are these food-processing AODD pumps exceptionally cleanable for specialty hygienic applications; they also offer easy maintenance and superior reliability. Versa-Matic has constructed this line of pumps with FDA-compliant materials only, making them ideal for food production.
Among the food and beverage markets that use these FDA-compliant pumps are canned goods, alcoholic beverages, juice concentrates, oils and syrups, condiments, soda, confectionary candies, poultry (saline injection), flavourings, and sauces. In the personal-care sector, they are also suitable for hair gel, shampoo, soap, perfumes, antiseptics, hair dye, cannabidiol (CBD), lubricants, and petroleum jelly. These units are compatible with a wide variety of wash-down treatments and sanitization methods, and York Fluid Controls offers a broad range of diaphragm materials to enable application flexibility from hot to cold mediums.
Five sizes of Versa-Matic FDA-compliant AODD pumps are available, all made of stainless steel: three clamp-style models and two smaller bolted-style ones. The 13-millimetre (mm) bolted metal FDA pump uses a patented air-valve system to deliver consistent on-off reliability while maintaining high efficiency, and the 25-mm version has a design that features a smooth, electro-polished fluid path, which makes it easy to clean and sanitize.
York also carries three sizes of clamped metal FDA pumps. Available in multiple diaphragm material options, the 38-mm model offers portability and is very easy to clean. The 51-mm version is extremely easy to maintain and offers quick teardown for service, inspection, and cleaning, while the 76-mm pump offers fast liquid transfer, meeting product-transfer and filling needs quickly and reliably for constant operation.
To learn more, contact York Fluid Controls.
---
Share

Posted by York Fluid Controls Ltd
For more than 35 years, Versa-Matic has served as a major producer of air-operated double-diaphragm pumps, or AODD pumps... Read more