Various broaching projects are possible with the Ohio Broach team
June 20, 2022 REDWIRE is news you can use from leading suppliers. Powered by FRASERS.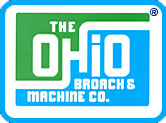 Posted by The Ohio Broach & Machine Co.
If you're looking for accuracy, efficiency, flexibility, and economy in the production of metal parts, broaching i... Read more
Related Topics
Related Sectors
Subscribe
Free REDWIRE e-newsletter
Ohio Broach can form many shapes.
The Ohio Broach & Machine Company has provided masterful broaching services for more than 65 years. The company has developed extreme versatility in its abilities due to client demand – which has earned for it a wide-ranging reputation for its skills in handling a diverse range of broaching projects for many customers. From cutting teeth to hand tools and medical implants, the Ohio Broach crew can cut and craft metal objects into almost any shape.
"On the fly" broaching
Broaching is a necessary aspect of manufacturing for many products, so Ohio Broach has developed the capability to handle every broaching request it gets. Examples of broaching projects that the company has achieved include the following:
Cast iron – cast ductile-iron motor mounts and similar items processed in only one pass, with surface or internal broaching.
Cutting teeth – perfect teeth cut into sawing and cutting tools, made easy with broaching. In one project, Ohio Broach used "on the fly" broaching to make triangular cutting teeth on pocket-knife saw blades.
Hand tools – including broaching wrenches, medical hemostats, and pliers. Surface broaching works for plier jaws or wrench open ends, while box ends on wrenches can be broached internally, and joint areas on hemostats can be straddle-broached.
Hexes and squares – drill bits and other kinds of tools, cut into squares and other shapes by the Ohio Broach crew with "on the fly" broaching.
Internal broaching – traditional broaching, or cutting key ways, splines, grooves, or squares into brass, copper, steel, or aluminum.
Irregular shapes – slots, angles, key ways, and radii created by broaching in steel and other material.
Medical implants – Ohio Broach once broached stainless steel surgical implants on a machine that enabled various lengths, in only two passes.
Shaft slots – The company also once broached slots in three transmission shafts on a patented shuttle in-feed table.
Teeth and serrations – gear teeth of any size cut into metals.
T-shaped slots – "T" shapes cut into brass, steel, or copper machine components.
For more information, contact Ohio Broach.
---
Share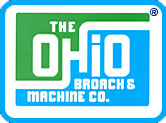 Posted by The Ohio Broach & Machine Co.
If you're looking for accuracy, efficiency, flexibility, and economy in the production of metal parts, broaching i... Read more
Related Topics
Related Sectors