Vacuum conveyors by piab ensure safe transport of fragile materials
March 6, 2023 REDWIRE is news you can use from leading suppliers. Powered by FRASERS.

Posted by Firing Industries Ltd
The business objective of FIRING INDUSTRIES LTD. is to consult with clients to select and supply technically complex PRO... Read more
Related Topics
Related Sectors
Subscribe
Free REDWIRE e-newsletter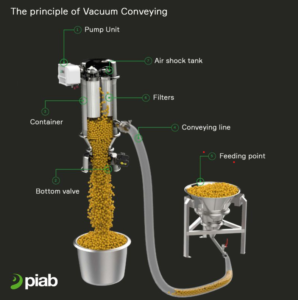 piab solutions are available from Firing Industries.
piab remains one of the world's top manufacturers of processing equipment, and its innovative solutions are available in Canada from Firing Industries Ltd. For example, the company's piFLOW® series of vacuum conveyors comes with groundbreaking material-handling technology that guarantees safe, efficient, and gentle transport of even the most fragile materials.
The piFLOW® series by piab also has a compact design that enables easy integration into any line, with durable construction that ensures a long operational life.
Thirty per cent productivity boost
Conveying bulk material from one point to another is of primary importance in the production process in the food-processing, chemical, and pharmaceutical sectors – and careful conveyance is crucial when dealing with fragile materials, to prevent unnecessary product waste. With piab's state-of-the-art technology, users get maximum suction power with minimal energy consumption. Other key advantages of the piFLOW® series include a dust-free working environment, easy cleaning, and a productivity boost of up to 30 per cent.
These vacuum conveyors are especially recommended for moving dry powder products through dedicated pipe systems. The piFLOW® series is constructed out of the highest-quality materials, and it has been designed as a solution for the severe requirements of operational safety and hygiene in the food, chemical, and pharmaceutical industries. These sectors have a high demand for the highest possible level of safety, in terms of hygiene and operation. All piab vacuum conveyors are ATEX Dust-certified, and the piFLOW®p and piFLOW®t models are also ATEX Gas-certified. Each piFLOW® conveyor is available with either a mechanical pump or an ejector-driven vacuum pump.
Firing Industries supplies several categories of the piFLOW® series:
piFLOW®p. High-requirement vacuum conveying.
piFLOW®p SMART. For automatic vacuum conveying.
piFLOW®t. Gentle vacuum conveying for fragile materials.
piFLOW®am. For additive manufacturing.
piFLOW®fc. Heavy-duty vacuum conveying.
piFLOW®f. Food-grade vacuum conveying.
piFLOW®i. Industrial vacuum conveying.
The latest variation available is the piFLOW® Batch Volume Optimization (BVO) series, developed to tackle bulk solids with a broader adaptation of automation. Spare parts and accessories are also available, for customers who want to enhance their vacuum conveyors.
To learn more, contact Firing Industries' application-sales engineers at [email protected] or (877) 688-0974.
---
Share

Posted by Firing Industries Ltd
The business objective of FIRING INDUSTRIES LTD. is to consult with clients to select and supply technically complex PRO... Read more
Related Topics
Related Sectors