Universal input modules by JM Concept offer many great features
May 6, 2022 REDWIRE is news you can use from leading suppliers. Powered by FRASERS.
Posted by Durham Instruments
One Source For All Your Quantitative Measuring Needs. With Over 50 Yrs.Of Experience In The Instrumentation Field. It Of... Read more
Related Topics
Related Sectors
Subscribe
Free REDWIRE e-newsletter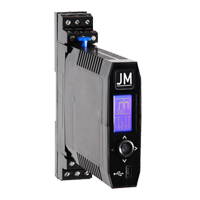 The JM Concept TELIS 9000 series
JM Concept products are now available in Canada through Durham Instruments, including the TELIS 9000 series of universal input modules. Each of these innovative devices serves as a universal converter for direct current and direct voltage, as well as a variable resistance probe, a thermocouple, and a potentiometer.
The TELIS 9000 series comes with a five-year guarantee and comprises no less than 14 models, with vary outputs and case widths.
With quadruple galvanic isolation
Each unit in this series offers two-wire resistance that is coupled with a sensor supply for every input, one or two isolated analog outputs, and up to four relays and an RS485 Modbus RTU communication port. The TELIS 9000 series offers quadruple galvanic isolation, 24-bit conversion for inputs, 16-bit conversion for outputs, and accurate cold junction compensation at plus or minus one degree Celsius for thermocouple inputs.
Other key features of each of these instruments include a baseline board (ordered separately), a hot-swappable plug-in and -out case, an LCD display, a programming joystick, and a USB port for the RS485 Modbus communication. Multi-converter boards are also available. The case width is 22½ millimetres (mm) on six models and 45 mm on the other eight, while three of them have four relays each. Other general specifications of the TELIS 9000 series:
Precision class: 0.1
Response time: less than 80 milliseconds for process input, thermocouple, and two-wire resistor; less than 160 milliseconds for RTD potentiometer
Thermal drift: less than 25 parts per million
Residual ripple on current output: less than 20 microamperes
Residual ripple on voltage output: less than ten millivolts
Maximum of consumption: less than ten volt-amperes
Operating temperature range: minus ten to 60 degrees Celsius
Storage temperature range: minus 25 to 80 degrees Celsius
Protection factor: IP20 black self-extinguishing polyamide housing V0
The TELIS 9000 series is suitable for use in many industries. Durham Instruments recommends it for general manufacturing, aerospace, automation, food processing, forestry, the medical field, the military, mining, packaging, power generation, alternative energy, transportation, and research and development.
For more information, contact Durham Instruments.
---
Share
Posted by Durham Instruments
One Source For All Your Quantitative Measuring Needs. With Over 50 Yrs.Of Experience In The Instrumentation Field. It Of... Read more