Unique robotic bending cell sets Matritech apart from the competition
January 22, 2020 REDWIRE is news you can use from leading suppliers. Powered by FRASERS.

Posted by Matritech Inc.
Matritech Inc. offers many advantages over other Canadian metal-parts manufacturers. The company delivers an unmatched b... Read more
Related Topics
Related Sectors
Subscribe
Free REDWIRE e-newsletter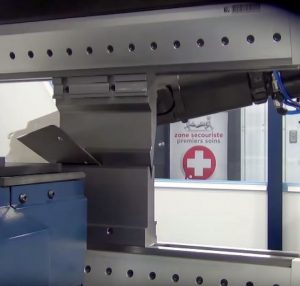 Matritech's Trumpf TruBend robotic bending cell
Matritech Inc. offers many advantages over other Canadian metal-parts manufacturers. The company delivers an unmatched breadth of services, diverse skills, and client service. The state-of-the-art technology and equipment enables Matritech to make superior components. For example, the company's unique high-speed robotic bending cell was the first such machine in Canada. Acquired in 2014, this machine is one of many things that set Matritech apart from its competitors in this arena.
More dimension, complexities, and components
Since Matritech began investing in robotic welding in 2003, it has been a game changer in the automated-machining field. When the company purchased this Trumpf TruBend Cell 7000 more than five years ago, it already owned a stellar group of versatile CNC standard presses. Since then, this robotic bending cell has boosted the amount of dimensions, complexities, and metal components in the company's abilities.
After workers lay pieces on the TruBend, the machine employs two gripping arms to analyze and bend the pieces and then moves them onto an automatic conveyor. No human interaction is required. By removing the potential for human error, the robotic bending cell guarantees repeat precision with perfect synchronization in every task.
What are the advantages that Matritech's automated bending service offers over standard CNC bending? First, the Trumpf TruBend machine is quicker than typical bending cells are. Second, it takes less time to set up, and third, it can produce more complex parts for a wider range of applications. The TruBend doubles the performance of a standard bending cell.
Other great features contribute to the unmatched versatility of the TruBend bending cell – like an automatic tool changer for handling small batches and system pallets with a flexible arrangement of drop-in compartments that can supply up to 24 different parts for the machine. The TruBend demonstrates Matritech's advantages when it comes to top technology, among the company's impressive range of welding robots, laser cutting, and CNC punching equipment.
Watch the video below to get a brief glimpse of how the Trumpf TruBend bending cell works:
To learn more, contact Matritech.
---
Share

Posted by Matritech Inc.
Matritech Inc. offers many advantages over other Canadian metal-parts manufacturers. The company delivers an unmatched b... Read more
Related Topics
Related Sectors