Two-way diverters by Jacob work for virtually any tubing application
April 28, 2021 REDWIRE is news you can use from leading suppliers. Powered by FRASERS.

Posted by Firing Industries Ltd
Jacob tubing solutions are essential for many production plants in several industries, especially food processing, and t... Read more
Related Topics
Related Sectors
Subscribe
Free REDWIRE e-newsletter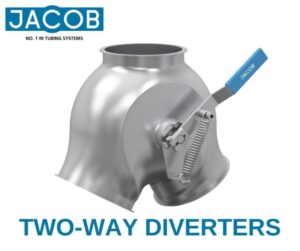 More than two dozen models are available.
Jacob tubing solutions are essential for many production plants in several industries, especially food processing, and they are available in Canada through Firing Industries Ltd. These tubing products ease the burdens of bulk goods handling, low-pressure conveying, and dust extraction and exhaust air. To assist with conveyance applications and more, Jacob offers many models of two-way diverters that are available to meet any user's unique requirements. These diverters offer the right way for every product.
Compliant with FDA standards
These series of diverter units by Jacob comprises the right solutions for distributing any products, whether the relevant task is bulk good conveying by gravity, pneumatic low-pressure conveying, or other applications. They are also part of the manufacturer's Food Grade line, which means that all metal components and stainless steel sealing materials that come into contact with products are fully compliant with the standards of the United States Food and Drug Administration, as well as the EC 1935/2004 standard.
Jacob two-way diverters are available not just in a comprehensive standard range, but also in a broad product range of special models. Examples include units for electrical actuation, other materials, rotary actuators or cylinders upon the customer's request, lining with a broad variety of wear-protection materials, welded-on flanges (in the Jacob standard or with clients' own specified dimensions), and stainless steel units in pickled and passivated designs.
More than two dozen variations of these Jacob two-way diverters are available via Firing Industries. This includes many 45- and 60-degree units, some symmetrical and some asymmetrical. Hand-operated diverters are available, and some are fitted with cylinders, pneumatic rotary actuators, seals, and inner collars. A few options are ATEX-certified, making them suitable for hazardous locations.
With a strong, knowledgeable network of both corporate and outside representatives, the Jacob team is eager to help any customer to solve all bulk-material, dust, vapour, and air-conveying needs. Clients are encouraged to reach other through Firing Industries for assistance with any application. Other solutions available include form pieces, multi-port distributors, fittings, silencers, cyclones, and much more.
To learn more, contact Firing Industries' application-sales engineers at [email protected] or (877) 688-0974.
---
Share

Posted by Firing Industries Ltd
Jacob tubing solutions are essential for many production plants in several industries, especially food processing, and t... Read more
Related Topics
Related Sectors