Turbo technology: a major advantage of several Rust-Oleum coating solutions
September 27, 2021 REDWIRE is news you can use from leading suppliers. Powered by FRASERS.

Posted by Rust-Oleum Consumer Brands
Solving challenges is the very foundation of who we are. After all, in the beginning, our founder, sea captain Robert Fe... Read more
Related Topics
Related Sectors
Subscribe
Free REDWIRE e-newsletter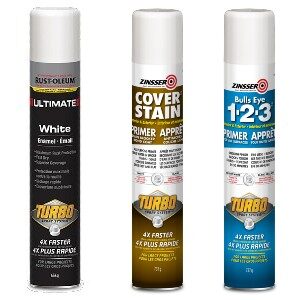 Several Rust-Oleum solutions are enhanced with innovative turbo power.
Rust-Oleum Corporation is a top Canadian supplier of industrial paint and coating products for a broad variety of applications and environments. A key benefit of investing in Rust-Oleum solutions is their innovation – like turbo technology, which provides a spray of up to ten inches (25 centimetres) wide. This advantage is most obvious with the unique ULTIMATE Turbo Enamel brand of spray paint. It also works well with such Zinsser products as Cover Stain Oil-Base primer-sealer and Bulls Eye 1-2-3 water-base primer.
Better coverage, cover, gloss retention
Recommended for large projects that need to be finished quickly, ULTIMATE Turbo operates four times more quickly than standard spray paints do. Available in a 656-gram size, this Enamel paint provides far superior coverage, colour, and gloss retention too. ULTIMATE Turbo provides the speed and quality of professional spray equipment with none of the hassle, along with a formula that offers the highest protection possible from corrosion damage. Among the other advantages are easy application, high gloss, high durability, and colour that lasts for a long time.
Simple and straightforward to apply, ULTIMATE Turbo dries quickly to achieve a tough and attractive finish – tack-free between two and four hours, to handle from five to nine hours, and completely in one day. The Rust-Oleum team deems this spray paint most suitable for outdoor application or in a well ventilated area, in humidity below 65 per cent and in temperatures between ten and 32 degrees Celsius.
Turbo technology is a huge boon in projects using Zinsser Bulls Eye 1-2-3 water-base primer. Two versions of this popular solution are available – a standard version and a grey one. This is a premium, whole-house primer-sealer that dries in only an hour.
Cover Stain Oil-Base primer-sealer is another option that works well with Rust-Oleum turbo technology. This is a sealer that can block stains, conceal dark colours, prevent tannin bleed, and penetrate and seal exterior wood. Users can optimize this product for large projects, and the wide spray pattern ensures quick coverage.
Trust Rust-Oleum for the best in professional paint sprays.
For more information, contact Rust-Oleum.
---
Share

Posted by Rust-Oleum Consumer Brands
Solving challenges is the very foundation of who we are. After all, in the beginning, our founder, sea captain Robert Fe... Read more
Related Topics
Related Sectors