Treadlite II foot switches by Linemaster are ergonomic and corrosion-resistant
May 16, 2023 REDWIRE is news you can use from leading suppliers. Powered by FRASERS.
Posted by Linemaster Switch Corp.
Linemaster Switch Corporation offers a complete range of electric, air-powered, variable speed, and wireless foot contro... Read more
Related Topics
Related Sectors
Subscribe
Free REDWIRE e-newsletter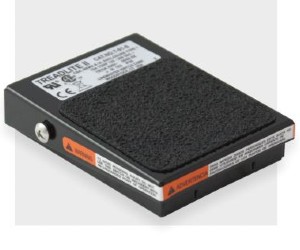 Linemaster makes the Treadlite II series.
Linemaster Switch Corporation makes industrial foot switches its specialty, with an unparalleled selection of solutions in this field. The manufacturer recommends its unique Treadlite II series of foot switches for dependable, high-quality performance and long operational lifespans. With six different sizes in the portfolio, each of these models has a rugged-formed, steel, low-profile housing that helps users to decrease user fatigue ergonomically, and optional full, oversized guards are available for added protection.
With adjustable strain-relief connector
A variety of models in this series offer momentary and maintained functions, and the non-skid cover and base pads on each switch provide for a sure and stable actuation. The Treadlite II line is available in single, twin, and triple models and in a wide range of variations for original equipment manufacturers (OEM). The series also includes watertight switches with stainless steel housing, which provides the added benefits of corrosion resistance, light weight strength, hygienic properties, and a superior appearance.
Among the other key advantages of the Treadlite II series are the compact size, the low profile, the adjustable strain-relief connector, and the momentary and maintained operation. The standard switches come in single and twin designs, with triple, quad, and special OEM models available from Linemaster as well. Stainless steel models are watertight enough to meet the requirements of the IP68 rating.
The Treadlite II series comprises 15 foot switches, including 14 momentary models and one maintained model. Ten of them comply with the requirements of the European CE safety standard, while five of those also meet the standards of Underwriters Laboratories in the United States. The Treadlite II series work with either SPDT or SPST circuits.
These foot switches can also be categorized into six different sizes – single metal switches each measure one by 2.63 by 3½ inches, while single stainless steel switches are 0.85 of an inch high (rather than one) each. The standard twin switch measures 1.48 by 6.12 by 3.56 inches, while a twin switch with wire channels measures 1.38 by 7.94 by 5.56 inches. The triple and quadruple models are longer, naturally.
To learn more, contact Linemaster.
---
Share
Posted by Linemaster Switch Corp.
Linemaster Switch Corporation offers a complete range of electric, air-powered, variable speed, and wireless foot contro... Read more
Related Topics
Related Sectors