The eight kinds of quality cable solutions from Bergen Cable
May 15, 2020 REDWIRE is news you can use from leading suppliers. Powered by FRASERS.

Posted by Bergen Cable Technology, Inc
Bergen Cable is a leader when it comes to quality cable solutions for industrial needs. Custom cable assemblies, miniatu... Read more
Related Topics
Related Sectors
Subscribe
Free REDWIRE e-newsletter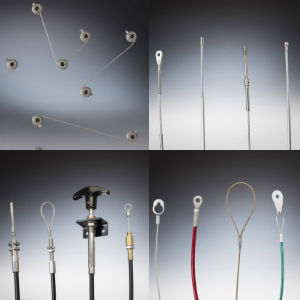 Four of the many great cable products from Bergen.
Bergen Cable is a leader when it comes to quality cable solutions for industrial needs. Custom cable assemblies, miniature cables, lanyards – an unsurpassed selection of products for many applications is available. Bergen provides solutions that are manufactured according to the highest quality standards in industry, especially for the aerospace sector.
The expertise behind Bergen's wide-ranging product lineup is backed by close to 80 years of experience in this field.
CNC technology alongside traditional equipment
The eight types of Bergen quality cable solutions available:
Safety cable. Bergen Cable co-developed this unique product in collaboration with General Electric back in 1987. Aerospace equipment manufacturers and machinery facilities trust safety cable as a safer, more efficient alternative to lock wire.
Lock Clad cable. The Bergen team is one of only two organizations around the globe approved to supply this brand of cable. This product is perfect for aircraft control applications and is constructed to minimize wear and eliminate sagging.
Custom cable assemblies. Bergen specializes in custom assemblies, using strong in-house capabilities to meet some of the most challenging client specifications on the market.
Control cable. This cable is recommended for precise transmission of mechanical motion, with such functions as throttle control, brake control, power takeoff, release actuation, and engagement and disengagement of various systems.
Lanyards. Bergen lanyards are ideal for applications in which employee injury and/or item loss is a significant risk. They are recommended for door restraint, theft prevention, and fastening jobs in the aerospace industry.
Miniature cable. This is commonly used for medical devices, electronics, and aircraft interiors. Bergen also recommends it for applications that involve confined spaces, or ones that need high flexibility, durability, or corrosion resistance.
Termination bands. Bergen is approved as a QPL manufacturer of M85049/128-3 and M85049/128-4 termination bands, usually used to attach braids or shields to back shells. Coiled or flat configurations available.
Precision-machined quality cable solutions. Bergen can make all kinds of customized cable fittings and hardware with its in-house machining capabilities, including the most up-to-date CNC technology and more traditional equipment.
To learn more, contact Bergen.
---
Share

Posted by Bergen Cable Technology, Inc
Bergen Cable is a leader when it comes to quality cable solutions for industrial needs. Custom cable assemblies, miniatu... Read more