The different kinds of sortation conveyors available from Norpak Handling
November 24, 2021 REDWIRE is news you can use from leading suppliers. Powered by FRASERS.

Posted by Norpak Handling Limited
Norpak Handling provides conveying products and complete turn-key systems to suit your requirements and solve your probl... Read more
Related Topics
Related Sectors
Subscribe
Free REDWIRE e-newsletter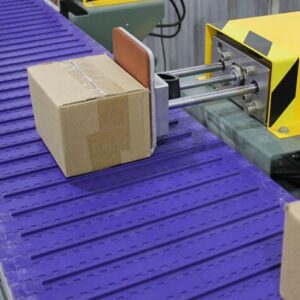 Sortation conveyors add precision and speed.
Norpak Handling Ltd. supplies an unmatched variety of material-handling solutions, including sortation conveyors. Sorting is a major function in many manufacturing plants and warehouses, particularly in large-scale production. It used to be a manual process that was extremely labour-intensive, with employees picking out items individually and distributing them into different conveyor lines. But today, conveyor accessories and software enable automated sorting – with higher precision and speed in the overall process.
Product type, speed, floor space
There are many different considerations that a business should bear in mind when selecting one of these systems for a facility, since sortation conveyors are designed for varying scenarios. The Norpak team cites such important factors as the required speed, floor space, and the type of product being handled – including its weight, packaging type, and size.
Among the most popular sortation conveyors available from Norpak:
Belted pivot-wheel sorter. Two sets of pivot wheels divert items, for efficient and productive sorting. Recommended for medium-sized packages.
Cross-belt sorter. This device has a chain of carts mounted on the main track, known as a carrier; the carts serve as small, bidirectional conveyor belts. Can process a high amount of operations per minute and provide a high density of divert locations.
Narrow belt sorter. With multiple narrow belts separated by pop-up rollers, this conveyor has a compact construction that is ideal for workplaces with limited floor space.
Pusher sorter. A pushing arm diverts products onto another conveying line, usually positioned perpendicularly to the main line. Also recommended for limited floor space.
Sliding shoe sorter. Most appropriate for high-speed sorting, this unit has gentle sortation that is perfect for smaller and fragile items. Built with aluminum slats, with sliding shoes to divert products.
Sweep sorter. Similar to the pusher sorter, but with bidirectional paddles. The sweeping mechanism makes it most appropriate for handling standard poly bags and other small items.
Till tray sorter. Like the cross-belt sorter, this conveyor has individual parts that facilitate high-density and high-speed sortation. Lined with trays that dispense items into a chute.
To learn more, contact Norpak.
---
Share

Posted by Norpak Handling Limited
Norpak Handling provides conveying products and complete turn-key systems to suit your requirements and solve your probl... Read more
Related Topics
Related Sectors