Sugatsune component hardware solutions for interior train compartments
May 26, 2021 REDWIRE is news you can use from leading suppliers. Powered by FRASERS.
Posted by Sugatsune Canada Inc
When it comes to tighter spaces, such as in train interiors, space-saving solutions for comfort and functionality are ke... Read more
Related Topics
Related Sectors
Subscribe
Free REDWIRE e-newsletter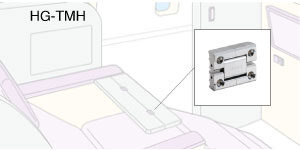 Train interiors are better for passengers with the assistance of Sugatsune.
When it comes to tighter spaces, such as in train interiors, space-saving solutions for comfort and functionality are key. Whether it be for baggage, sleeping, dining, observation, or standard cabins, Sugatsune's component hardware has the versatility you seek. Sugatsune's technical team assists designers and manufacturers in finding innovative solutions that keep in mind both the passengers and staff. When seated on a train, that footprint becomes the passenger's temporary home, and with the right ergonomics and adaptability in design, the travel becomes part of the journey for a memorable experience. Sugatsune component hardware for the railway industry caters to everyone; all aboard!
HG-TMH Series: Dual Axis Torque Hinge
The HG-TMH Dual Axis Torque Hinge is a great solution for gaining extra tabletop surface space in private, observation, or standard cabins. With a smooth opening of 180 degrees and no shaft protrusion, these hinges provide a temporary workstation for typing on a laptop, writing, or reading, an entertainment zone for holding cards or other games, or an eating zone for holding food and beverages. When not in use, the hinges' unique torque technology enables the tabletop surface to be folded and out of the user's way. Each shaft features a different torque capacity, allowing the tabletop to free stop in a unilateral motion for stability.
NF Series: Hooks
The NF-45D, NF-K, and NF-R series are spring-loaded recessed hooks that retract to their bodies in soft-closing motion. These hooks may be conveniently installed, with front screw mounting and cover cap to hide screw head, in wood or sheet metal (adaptable bracket available separately) panels. With attention to detail in their manufacturing, there is a lip at the end of the hook arm to keep objects in place, making them ideal for environments that are susceptible to motion and vibrations, such as in trains.
With a contemporary rectilinear design in four different finishes, the NF-45D series of hooks adds a touch of elegance to train interiors. At a load capacity of up to 9 kg (20 lbs), coats, purses, or umbrellas may be secured and out of the way, to clear floor space.
The NF-K series of hooks was designed with a square form and curved edges, while the NF-R series of hooks was designed with a round form and has a load capacity of up to 20 kg (44 lbs.). Each hook series is available in three sizes and three finishes per size.
The NF-60D series of recessed hook tips was ergonomically designed for easy opening.
With a load capacity of up to 30 kg (66 lbs.), heavier objects may be supported. The NF-60DF series hook is surface-mounted to be installed in a cutout for sheet metal applications. It has 70-degree angle of opening to hold objects.
Multipurpose Lids and Grommets
Made of 304 Stainless Steel for anti-corrosive properties, Sugatsune Multipurpose lids and grommets may be installed in bathroom vanities, on kitchen counter tops, or for waste disposal.
For waste management, the AZ-GD230L-HL series of Multipurpose lids with Dampers installs vertically and has tamper-proof locks with red indicators to control access. It is recommended to be used in public transportation spaces, such as in trains. With anti-pinch plates and soft closing, this lid was designed with user safety in mind.
To learn more, contact Sugatsune.
---
Share
Posted by Sugatsune Canada Inc
When it comes to tighter spaces, such as in train interiors, space-saving solutions for comfort and functionality are ke... Read more
Related Topics
Related Sectors