Several kinds of industrial conveyor components are available from Continental
May 13, 2020 REDWIRE is news you can use from leading suppliers. Powered by FRASERS.
Posted by Continental Conveyor Ltd
Continental Conveyor Ltd. serves businesses across Canada as the ultimate one-stop shop for conveyors and related produc... Read more
Related Topics
Related Sectors
Subscribe
Free REDWIRE e-newsletter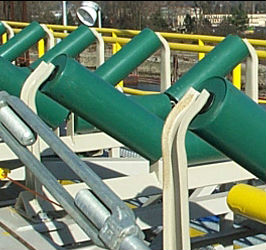 Continental offers belt conveyor idlers and more.
Continental Conveyor Ltd. serves businesses across Canada as the ultimate one-stop shop for conveyors and related products. This has kept the company successful after almost six decades of operation. Continental manufactures more than just conveyor systems, but also accessories and parts – including several kinds of industrial conveyor components.
For customers who would rather replace specific parts than invest in whole new conveyor systems, Continental offers such components as belt conveyor idlers and specialty rubber products.
Covers and pulleys and more
The three primary categories of industrial conveyor components available are belt conveyor idlers, belt conveyor pulleys, and conveyor covers. Idlers come in two different models, Series 25000 and Series 30000, both of which are designed for continuous operation, high capacities, and heavy abrasive materials. Series 30000 units are fitted with heavy concentric tubing, combination contact and labyrinth seals, oversized shafts, heavy stamped end discs, deep-grooved ball bearings, stamped bearings, and seal retainers. All these idlers have rolls with diameters of five or six inches and belt widths of up to five feet. Flat-belt-carrying rubber-cushion, training, picking-roll, and troughing idlers are among the examples.
Belt conveyor pulleys are also available, and Continental designs all of these components to meet strict standard specifications. The variations in the company's portfolio include lagged-wing pulleys, spiral-drum pulleys, and spiral-wing pulleys. Lagged-wing pulleys offer great tractive capacity while minimizing wear from material buildup. Spiral-drum pulleys reduce belt wear and misalignment, while spiral-wing pullers have self-cleaning features. Continental can customize these units by altering specifications according to customer requirements.
The third main type of industrial conveyor components, conveyor covers, are units that minimize damage to idlers and belts, prevent material loss, and boost worker safety by protecting materials and other components. Continental's conveyors have specialized mounting brackets, extended sides to enclose return belt runs, symmetrical design for quick and easy installation, and wide support bands to stop gaps.
This is not all: Continental also manufactures impact cassettes and specialty rubber products. Whatever conveyor needs a customer may have, large or small, the company's large, diverse portfolio of components can cover it.
For more information, contact Continental.
---
Share
Posted by Continental Conveyor Ltd
Continental Conveyor Ltd. serves businesses across Canada as the ultimate one-stop shop for conveyors and related produc... Read more
Related Topics
Related Sectors