Renovated website helps EXAIR customers browse and shop more easily
July 20, 2021 REDWIRE is news you can use from leading suppliers. Powered by FRASERS.

Posted by Exair Corporation
EXAIR's compressed air products are designed to improve the overall efficiency of your operations. Intelligent Com... Read more
Related Topics
Related Sectors
Subscribe
Free REDWIRE e-newsletter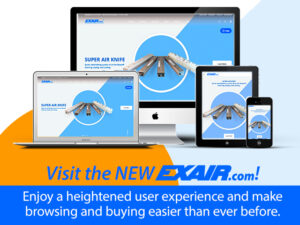 EXAIR has recently revamped its website.
EXAIR Corporation is the continent's top source of industrial compressed-air products, ranging from air guns and air knives to cabinet coolers and vacuum generators. And now, it is easier than ever to work with the manufacturer online. The EXAIR team has renovated its website with a new design, faster speeds, updated themes, and a better interface. This freshly upgraded site will heighten the user experience with its new look and feel.
With input from customer feedback
This revamped website is based on extensive research into customer feedback on how to make online shopping with EXAIR easier than ever before. The new EXAIR.com allows for faster and easier browsing of the company's products, videos, and other resources, with attention paid to overall speed and smoothness of navigation. Regardless of whether the user accesses it through a personal computer, a tablet, or a Smartphone, the renovated site is fully responsive; it also features an improved search function with filtered results, which enables navigation to specific products in mere seconds.
But faster searching is just one of the benefits of the improved website. EXAIR.com also continues to offer the critical tools that customers need to find the most appropriate solutions for their individual circumstances, with 64 native extensions for CAD drawings, PDF files, product videos, and full performance information. Visitors can also access EXAIR installation and maintenance guides, air-savings calculators, case studies, slide presentations, and a massive application database that includes a solution pathway that educates customers on what intelligent compressed-air equipment can do.
Customer personalization has also been upgraded on the site, so that visitors get far better account management when they want to request information, make changes, or see their order history. The company's application engineers are instantly available to chat with site users who need more information during business hours, due to the improved chat function. Customers can also download the current catalogue and price list directly from the home page.
EXAIR invites customers to visit the revamped site and explore the new and improved functions. Browsing and buying EXAIR products is now more convenient than it ever has been.
---
Share

Posted by Exair Corporation
EXAIR's compressed air products are designed to improve the overall efficiency of your operations. Intelligent Com... Read more