Quality assurance ensures customer satisfaction with L. & M. Precision
February 23, 2023 REDWIRE is news you can use from leading suppliers. Powered by FRASERS.

Posted by L & M Precision Products Inc
L. & M. Precision Products Inc. is an employee-owned, non-union shop with a solid reputation as a top-tier producer... Read more
Related Topics
Related Sectors
Subscribe
Free REDWIRE e-newsletter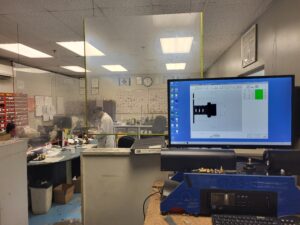 L. & M. recently acquired an Oasis programmable laser vision inspection system.
L. & M. Precision Products Inc. maintains a strict, high standard of quality in all the custom-machined components it makes for its customers. The firm has a comprehensive Quality Assurance Program that makes sure it never wavers from this standard. An exceptionally well-trained team of skilled professionals manages this program.
This department is always committed to ensuring that all products from L. & M. meet or exceed customer expectations for high quality.
Blending experience and equipment
Using an exceptionally well-controlled process, backed up by calibrated equipment, the team approaches every project with a strong quality policy. This policy, which was launched to ensure that customer needs are always a high priority, requires all personnel to commit themselves to improving process efficiency in a cost-effective way, with client satisfaction as a focused, constant goal. L. & M. management re-evaluates the Quality Assurance Program on a regular basis to attain constant improvement.
The quality-assurance team employs gauges, hardness testers, optical comparators, and other instruments that are calibrated according to NIST standards. The department also uses a Zygo Z-Mike laser micrometer that is currently the most accurate non-contact bench-top micrometer available. The latest addition to the L. & M. equipment family is an Oasis programmable laser vision inspection system – an accurate, efficient, non-contact device that works like an optical comparator and can check more than one dimension at once. The company enables a blending of hands-on experience and equipment to comply with all specifications, and sampling plans ensure controls before and during product runs.
The company develops these sampling plans according to ISO standards, as L. & M. has been ISO-certified for more than 20 years and currently complies with the requirements of the ISO 9001:2015 Quality Management System Standard. The company makes sure it continues to qualify for ISO approval with a yearly surveillance audit, and this process is re-certified every three years to stay up to date.
The quality-assurance process commences before every single project and continues until clients receive their custom-machined parts. Every L. & M. team member takes part in the process at some stage, from upfront estimation through engineering and production to shipping the final product to the customer. The Quality Assurance Program keeps all product specifications accurate, so L. & M. can identify, solve, and verify issues.
To learn more, contact L. & M.
---
Share

Posted by L & M Precision Products Inc
L. & M. Precision Products Inc. is an employee-owned, non-union shop with a solid reputation as a top-tier producer... Read more
Related Topics
Related Sectors