Proudly Canadian: Thermo-Kinetics manufactures all temperature sensors in-house
March 4, 2020 REDWIRE is news you can use from leading suppliers. Powered by FRASERS.

Posted by Thermo-Kinetics Measurement & Control Ltd.
For almost 50 years, Thermo-Kinetics Measurement & Control has been one of Canada's premier distributors of measurem... Read more
Related Topics
Related Sectors
Subscribe
Free REDWIRE e-newsletter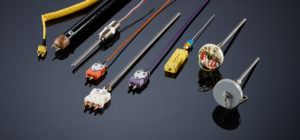 Thermo-Kinetics produces many of its own test and measurement instruments.
For almost 50 years, Thermo-Kinetics Measurement & Control has been one of Canada's premier distributors of measurement and control solutions and is known for products by Honeywell, Krohne, and other major manufacturers. But Thermo-Kinetics itself is also a versatile Canadian manufacturing company. It makes a comprehensive line of products for temperature measurement and process control instrumentation.
Thermo-Kinetics' product portfolio consists of a variety of innovative, value-driven measurement and process control solutions for customers in a wide range of industries, including steel, oil and gas, aerospace, and many more.
Extensive knowledge and experience
The Thermo-Kinetics team possesses extensive knowledge and experience that enables it to help customers find the right measurement and control solutions consistently and efficiently. Thermo-Kinetics has manufactured the following products in-house for almost 50 years; this is a testament to how reliable they are:
Thermocouples. Temperature-sensing elements that operate on the principle that when two dissimilar metals are braised together and the junction is heated, they produce low voltage proportional to the temperature. Thermo-Kinetics offers reliable, accurate thermocouples and custom-makes elements according to customer specifications. In-house calibration available.
Resistance temperature detectors (RTDs). These measure temperature by associating the resistance of the element with temperature. Thermo-Kinetics manufactures many sanitary RTDs. In-house calibration available.
Thermowells. Principally used with thermocouples, RTDs, and bimetal thermometers in applications that require temperature measurements at pressures above 75 psig or in hostile environments.
Protection tubes. Used to protect sensors, typically thermocouples, from contaminating atmospheres and mechanical damage.
Transmitters and alarms. Thermo-Kinetics offers many different options to convert thermocouples, RTD potentiometers, or voltage inputs into a 4-20-mA output. Most transmitter models are microprocessor-based.
Thermocouple and extension wire. A broad inventory of the most common calibrations and insulations of thermocouple and thermocouple-extension wire.
TR6 resistance compensators. Electric compensators that correct temperature values of long downhole thermocouples (in excess of 400 metres) prone to errors due to higher loop resistances.
Manifold valves. Economical and convenient mounting of pressure transmitters and switches.
Accessories. Several models of mini and full-size plugs and jacks available, including two- and three-pole options.
Whether made by Thermo-Kinetics or another producer, there is a solution available for everything.
For more information, contact Thermo-Kinetics or call 1-800-268-0967.
---
Share

Posted by Thermo-Kinetics Measurement & Control Ltd.
For almost 50 years, Thermo-Kinetics Measurement & Control has been one of Canada's premier distributors of measurem... Read more
Related Topics
Related Sectors