Optical interrogator by HBM makes measurement more easy and flexible
October 28, 2020 REDWIRE is news you can use from leading suppliers. Powered by FRASERS.
Posted by Durham Instruments
HBM Test and Measurement products are available through Durham Instruments, and its latest innovation is the QuantumX MX... Read more
Related Topics
Related Sectors
Subscribe
Free REDWIRE e-newsletter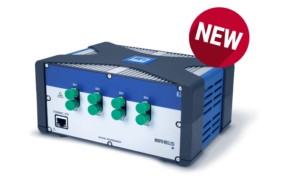 The QuantumX MXFS BraggMETER optical interrogator, by HBM Test and Measurement
HBM Test and Measurement products are available through Durham Instruments, and its latest innovation is the QuantumX MXFS BraggMETER optical interrogator. This device brings all of the optical benefits of the filter-based BraggMETER technology, measuring a large sensing network composed by different kinds of sensors, high strain, high fatigue resistance, reliable long-distance measurements, and lower costs. The QuantumX MXFS makes optical measurement easy, flexible, and competitive.
With two operating modes
The MXFS BraggMETER allows up to 16 Fibre Bragg Grating sensors to be connected in series to each of the eight optical connectors, with parallel acquisition. The fibre-optic sensing device offers 128 channels per module with simultaneous acquisition, so not only is the cost per measuring point lower, but also the overall ownership cost.
Users can choose among two operating modes on this optical interrogator: normal speed, with an 100S/s acquisition rate, recommended for monitoring projects or thermal testing of components; and high speed, with a 2000S/s acquisition rate, suitable for dynamic monitoring or experimental stress analysis. High precision is an advantage, with continuous calibration to ensure system accuracy over long-term operations, a wavelength range of 100 nanometres, smart peak detection, measurement stability of 5pm, and measurement resolution under 2pm. FBG technology offers multiplexing capabilities, low losses, and immunity to EMI and RF.
The HBM QuantumX MXFS BraggMETER optical interrogator enables integration of an impressive number of precise, stable optical fibre measurements. The FBG sensors are easy to install, electromagnetically safe, and usable in explosive environments. Users can measure strain, temperature, acceleration, load, and tilt, which increases the accuracy and the possible range of measurement applications.
In terms of functionality, size, and weight, the MXFS optimally suits more challenging applications and work conditions. Resistance and stability are major benefits, with long-distance measurements, low noise, signal stability, low risk of long-term measurement failure, fitness for environments with humidity or extreme temperatures, and no zero drift.
The versatile MXFS is recommended for numerous applications, including civil engineering, automotive tasks, wind power, and rail transportation. Durham Instruments deems it suitable also for automation, the military, and mining.
To learn more, contact Durham Instruments.
---
Share
Posted by Durham Instruments
HBM Test and Measurement products are available through Durham Instruments, and its latest innovation is the QuantumX MX... Read more