Ohio Broach's dual-ram vertical broaching machine achieves high cost savings
April 11, 2023 REDWIRE is news you can use from leading suppliers. Powered by FRASERS.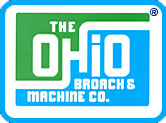 Posted by The Ohio Broach & Machine Co.
If you're looking for accuracy, efficiency, flexibility, and economy in the production of metal parts, broaching i... Read more
Related Topics
Related Sectors
Subscribe
Free REDWIRE e-newsletter
The dual-ram vertical broaching machine that Ohio Broach manufactures
Customers across North America rely on The Ohio Broach & Machine Company for its broaching talents, but the organization also manufactures its own broaching equipment – some for its own use, and some for clients who want to conduct their own broaching privately. This includes a unique dual-ram vertical broaching machine.
This broaching machine can achieve high cost savings for users, while offering a compact, versatile design that takes up little floor space.
Durability and long lifespan
One of many broaching-machine models available, this dual-ram vertical unit has capacities that run from five to 15 tons and strokes that range from 48 to 72 inches. The machine has hardened and ground steel ways made out of high carbon steel, which is hardened and tempered before the Ohio Broach team grinds it to closely controlled tolerances – resulting in durability and a long lifespan.
The precision ram slides are another key feature of the dual-ram vertical broaching machine. They are built from close-grain, high-tensile cast iron, and the surfaces are scraped by hand for exact fits and flaked for maximum lubrication penetration. The compact design includes a ram slide and table sub-assemblies mounted on a rigid base weldment, and the lower weldment portion functions as a coolant reservoir.
A high-performance, fixed-displacement vane pump is also incorporated into this machine, in conjunction with other high-performance valves and controls. This results in a reliable open-loop drive-system design. The machine is available to customers with the standard alternating ram cycle or with individual ram operation, which makes it virtually two machines on one base.
The standard model of this vertical broaching machine includes platen, non-moving tables, and Ohio Broach can supply other table types. Among the examples are tip-back tables that tilt the work-holding fixture back 35 degrees from the horizontal and in-feed shuttle tables that move on a horizontal plane, so the machine can make repeat passes until it reaches a predetermined cut depth. Customers can receive a combination of both table types on request, in a more versatile design. The standard colours are machine-tool grey and vista green.
To learn more, contact Ohio Broach.
---
Share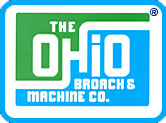 Posted by The Ohio Broach & Machine Co.
If you're looking for accuracy, efficiency, flexibility, and economy in the production of metal parts, broaching i... Read more
Related Topics
Related Sectors