Ohio Broach satisfies customer with perfect solution for wrench-jaw tooling
November 16, 2023 REDWIRE is news you can use from leading suppliers. Powered by FRASERS.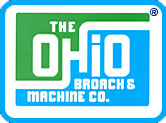 Posted by The Ohio Broach & Machine Co.
If you're looking for accuracy, efficiency, flexibility, and economy in the production of metal parts, broaching i... Read more
Related Topics
Related Sectors
Subscribe
Free REDWIRE e-newsletter
A wrench-jaw producer benefited highly from Ohio Broach's new tooling process.
For more than 65 years in the broaching field, The Ohio Broach & Machine Company has achieved a lengthy track record of customer success stories. Many clients' broaching projects benefit highly from the company's unmatched levels of expertise and skills in design, engineering, manufacturing, and machine building; customers always get the appropriate solutions for their needs. For instance, Ohio Broach came through when a producer of ready-to-assemble wrench jaws required a better tooling process.
A quicker transfer of material
The customer was using an insufficient process in its projects: employees were tooling the jaws on a small machine that provided only two feet of stroke, so the deep slot in each part needed multiple passes to broach. This tooling process resulted in production often slowing down due to tooling breakage.
The company needed a better option right away and contacted Ohio Broach, who redesigned the slot tools to broach every deep slot in just one pass. As a result, the customer could conduct the process on a 15-ton machine with 90 inches of stroke. This also allowed workers to broach rounded slots and serrated tooth forms in progressive operations on the same machinery.
The Ohio Broach team recommended a new three-step process of broaching, drilling, and finishing. This process allowed a far quicker transfer of material between the production stages, thereby improving the efficiency and productivity of the operation. After each stroke of the broaching machine, the operator could remove a completely broached part from the fixture and turn around to put it in the drilling machine, to drill every hole to tolerance during the broaching of the following part. The drilling machine would clamp the fixture hydraulically when the worker pressed a few buttons. The part would be finished off with the assistance of deburring, heat treatment, and black oxidization.
The customer immediately went ahead with the new tooling process – and the results were a definite improvement over the earlier ones. Thanks to Ohio Broach, all broaching projects were now much quicker and easier, as the process eliminated all unnecessary repetition and downtime.
To learn more, contact Ohio Broach.
---
Share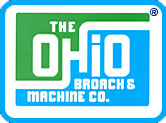 Posted by The Ohio Broach & Machine Co.
If you're looking for accuracy, efficiency, flexibility, and economy in the production of metal parts, broaching i... Read more
Related Topics
Related Sectors