Ohio Broach is a one-stop shop for industrial broaching needs
September 13, 2021 REDWIRE is news you can use from leading suppliers. Powered by FRASERS.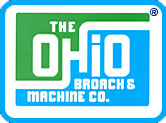 Posted by The Ohio Broach & Machine Co.
If you're looking for accuracy, efficiency, flexibility, and economy in the production of metal parts, broaching i... Read more
Related Topics
Related Sectors
Subscribe
Free REDWIRE e-newsletter
A full package of broaching solutions is available from Ohio Broach.
For 65 years, The Ohio Broach & Machine Company has revolutionized the broaching field for customers in all kinds of industries across the continent. The wide service range available includes more than in-house broaching services; it also encompasses broaching-machine design and construction, tool manufacturing and sharpening, and machine and tool repair.
Ohio Broach serves businesses as a complete one-stop shop for industrial broaching needs with its unmatched versatility in this area.
Complete package of solutions
Not long after its founding as a small broach-tool shop in Cleveland, the company began expanding its range of services. Over the years, the Ohio Broach team increased its capabilities into the construction of broaching machines. The firm has been building and selling these machines for more than 50 years. Many kinds of machines are available today – vertical surface machines, vertical internal machines, horizontal internal machines, table-up machines, and a CNC shaper. Clients can perform in-house broaching in their own facilities by investing in this equipment.
Other services that fall within Ohio Broach's wide broaching range include machine rebuilding, tool sharpening and reconditioning, machine and tool repair, and contract in-house production broaching. Personnel can also design and engineer custom machines for clients with specific requirements or unique applications. Customers do their own broaching with this equipment, but additional services are occasionally needed.
With decades of expertise, Ohio Broach has achieved a level of versatility that allows it to tackle an unsurpassed range of projects. Crankshaft thrust bearings, wrench jaws, and applications with medical implants, hand tools, cast iron motor mounts, cutting teeth on pocket knives, and many irregular shapes are among the unique solutions that the company has achieved for clients. Few organizations can emulate such a diversity of accomplishments.
For an idea of Ohio Broach's range, watch the video below:
Ohio Broach offers a complete package of solutions for many major industrial markets, having served customers in such sectors as aerospace, hand tools, oil and gas, the military, and the automotive sector.
To learn more, contact Ohio Broach.
---
Share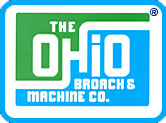 Posted by The Ohio Broach & Machine Co.
If you're looking for accuracy, efficiency, flexibility, and economy in the production of metal parts, broaching i... Read more
Related Topics
Related Sectors