Ohio Broach and the basics of its professional broaching methods
January 17, 2023 REDWIRE is news you can use from leading suppliers. Powered by FRASERS.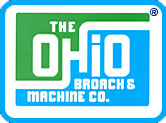 Posted by The Ohio Broach & Machine Co.
If you're looking for accuracy, efficiency, flexibility, and economy in the production of metal parts, broaching i... Read more
Related Topics
Related Sectors
Subscribe
Free REDWIRE e-newsletter
Various broaching options are available.
For more than 65 years, The Ohio Broach & Machine Company has been a leading provider in almost every kind of professional broaching service a business could require. For readers unfamiliar with the technique of broaching, this is a valued, important machining method that provides a unique level of precision and efficiency.
Broaching is available from the Ohio Broach crew in a wide service range that covers a broad spectrum of customer needs.
Internal and external broaching
A process for removing material from metal (usually with hardness less than Rc 30), broaching is typcially conducted with a toothed tool called a broach. This tool is similar to a saw, but with teeth that increase in height over its length, which builds "feed" into the broach. Each different section works for a different broaching method – such as roughing, semi-finishing, or finishing – by varying the height differences.
Professional broaching is frequently used in precision machining and most recommended for unusual metal shapes; common surface examples include serrations, splines, keyways, and flat surfaces. Castings, forgings, screw-machine parts, and stampings are among frequently processed work pieces.
Ohio Broach offers two main types of broaching – internal and external. Internal broaching involves running the broach linearly through a pilot hole in the piece to make a cut in a pull- or push-type broaching machine, while external broaching is the process of running a broach linearly against the surface of the piece to effect a cut, typically in a vertical surface broaching machine. Each technique typically needs only one pass to make the cut; both achieve results with more precision and higher speed than most other machining processes can.
The company provides almost every specific professional broaching service in existence, and it manufactures and sells broaching machines for private users to conduct their own broaching tasks. In addition, Ohio Broach offers sharpening, repair, and reconditioning services to keep tools and machines in peak condition. With production broaching, the Ohio Broach team uses its strong technical abilities and longtime experience to machine a wide range of parts and shapes.
To learn more, contact Ohio Broach.
---
Share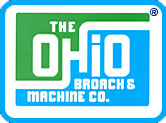 Posted by The Ohio Broach & Machine Co.
If you're looking for accuracy, efficiency, flexibility, and economy in the production of metal parts, broaching i... Read more
Related Topics
Related Sectors