Norpak Handling plastic chain conveyors and their advantages and benefits
August 19, 2021 REDWIRE is news you can use from leading suppliers. Powered by FRASERS.

Posted by Norpak Handling Limited
Norpak Handling provides conveying products and complete turn-key systems to suit your requirements and solve your probl... Read more
Related Topics
Related Sectors
Subscribe
Free REDWIRE e-newsletter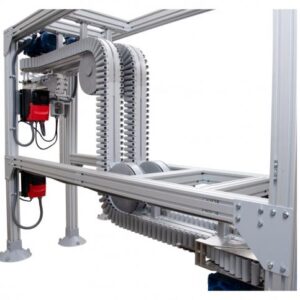 Two kinds of plastic chain conveyors are available.
Among the many material-handling solutions available from Norpak Handling Ltd. are plastic chain conveyors – which are popular in such industries as food processing, pharmaceuticals, and small personal-care items. These highly flexible systems come with several unique advantages that make them better suited for these sectors than other models are.
A recent blog post by the supplier discusses the four primary benefits that plastic chain conveyors contribute to these industries.
Light and easily portable
There are two main types of plastic chain belt conveyors available from Norpak – the Hytrol Model ALT1000, and the QC Industries FlexTrac. The former is designed to accommodate various accessories and combinations, and users can configure it to adapt to evolving requirements. The FlexTrac is optimized in a similar way, but also can take on heavy loads and high speeds.
One major advantage is ease of cleaning and sanitizing. Plastic chain conveyors have a structure fabricated for sanitary conditions, and the plastic belt is also easy to clean. This is an enormous boon to the food-processing, pharmaceutical, and personal-care industries, since a whole batch of products could be recalled as a result of even minimal contamination.
Second, there is lower risk of product damage. The plastic belt's smooth top makes deflection and diversion of items easy, and the belt is non-marking. So plastic chain conveyors are gentler with products and packages. Utmost quality is essential in conveying applications, since product and packaging damage is an important hazard in consumer products.
The third key benefit is better belt tracking. Plastic chain conveyors use sprockets rather than pulleys, which enables a better, more streamlined belt flow and minimizes belt-tracking problems. The overall stability keeps items steady on the belt, which maintains their positions so that users do not have to check on the items repeatedly.
Finally, plastic chain conveyors offer a layout configuration and versatility that simplifies rearrangement of production lines. This versatility makes them ideal for food packaging, in which packaging solutions are often rotated. Installation and relocation are easier too because plastic chain conveyors are light and easy to transport.
To learn more, contact Norpak.
---
Share

Posted by Norpak Handling Limited
Norpak Handling provides conveying products and complete turn-key systems to suit your requirements and solve your probl... Read more