N.R. Murphy's Pulse Jet dust collectors: perfect for 24/7 operation
June 28, 2022 REDWIRE is news you can use from leading suppliers. Powered by FRASERS.
Posted by N.R. Murphy Limited
Over 75 Years (est. 1943) Of Experience In Custom Manufacturing Dust Collection Systems And Related Equipment. Also Incl... Read more
Related Topics
Related Sectors
Subscribe
Free REDWIRE e-newsletter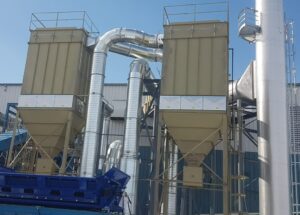 Pulse Jet dust collectors offer constant operation.
Businesses across North America have relied on N.R. Murphy Limited for the widest selection of industrial air-quality solutions for decades. The portfolio includes a broad variety of dust-collection equipment, for workplaces with strong dust hazards. For example, N.R. Murphy manufactures several models of Pulse Jet dust collectors.
Pulse Jet collectors are recommended most for manufacturing operations that run on a nonstop, 24-hours-a-day, seven-days-a-week schedule.
Set timer for filter cleaning
These units use compressed air to blow the filters clean on a set timer, so that the process functions constantly without interruption – and the business never misses a minute of production as a result. The air manifolds are constructed to last for decades of use, with parts that are easy to replace. N.R. Murphy carries four series: the HE, HEC, C, and CP series.
The HE series of Pulse Jet dust collectors offers a continuous-duty, automatic self-cleaning filtration system for customers, with no production downtime. This ensures optimum productivity. For no-hassle dust collection, these units run 24 hours a day, seven days a week. Meanwhile, the HEC series uses compressed air to clean the filters on a continuous basis to ensure a consistent pressure drop across the filter tubes and enable a more uniform flow through the ductwork. These collectors are available with various storage and discharge arrangements.
The N.R. Murphy C series uses cartridge-style filters to offer continuous-duty, automatic self-cleaning filtration similar to that of the HE series. The company recommends this line highly for the low dust loads of smoke, fumes, or fine dust particles. Extremely flexible in design, the CP series uses compressed air to clean cartridges constantly, which enables uninterrupted duty. Various filter material options are available, and the unit allows for many disposal options. The CP series is popular in the pharmaceutical, mining, food-processing, and powder-paint sectors.
N.R. Murphy has had notable customer success stories with the Pulse Jet models. For example, the company custom-designed a unit for Clariant Canada that replaced an outdated, hard-to-maintain dust collector. HS Automation benefited from a Pulse Jet for a new U.S. agricultural facility.
For more information, contact N.R. Murphy.
---
Share
Posted by N.R. Murphy Limited
Over 75 Years (est. 1943) Of Experience In Custom Manufacturing Dust Collection Systems And Related Equipment. Also Incl... Read more