Matritech's finishing services result in supply management simplification
February 18, 2021 REDWIRE is news you can use from leading suppliers. Powered by FRASERS.

Posted by Matritech Inc.
With an unmatched variety of industrial services (including machining, assembly, extrusion, tooling, coating, and others... Read more
Related Topics
Related Sectors
Subscribe
Free REDWIRE e-newsletter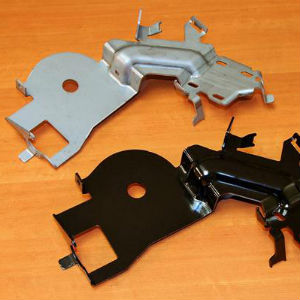 Finishing and coating are among Matritech's services.
With an unmatched variety of industrial services (including machining, assembly, extrusion, tooling, coating, and others), Matritech Inc. has grown into the perfect one-stop shop since 1989. The firm also offers finishing of metal parts, and a key benefit of this service is supply management simplification. In addition to other competitive advantages that these finishing and coating provisions offer, they make every product easier and add significant value to every project.
Wide range of surface coatings
Matritech maintains its reputation as a world-class expert metal-part producer by building solid strategic partnerships, and this gives the company access to a wide range of surface coatings for finishing. The Matritech team offers painting, plating, anodizing, Serigraph, and passivation services. This diverse range allows delivery of components to all customers in top condition and ready for use.
The company's full range of services is enhanced by its variety of capabilities, which results in supply management simplification for clients. By providing so many different manufacturing processes under the same roof, Matritech makes purchasing management far simpler. Reducing management time and making transportation simpler help to decrease the customer's total cost of ownership substantially. The expert team of project managers can recommend in-house options that reduce client costs, simplify the manufacturing process, and increase the general quality of the ordered components.
The team always monitors project advancement closely and constantly, to keep pace with all client goals and deadlines, with the help of internal programs, strict timelines, and close follow-up. Matritech works closely with the customer at each stage of the process, from the development of the parts to prototyping and production. The company supports all of the businesses it serves as they grown, by providing techniques that are adapted to the client's needs at every step of the product life cycle.
Matritech's coating and finishing services contribute to the whole package of supply management simplification, and they also come with their own competitive advantages. For example, customers benefit from economy of scale with the company's partners, experience in managing partners' different standards, and substantial time savings. This is typical with Matritech.
For more information, contact Matritech.
---
Share

Posted by Matritech Inc.
With an unmatched variety of industrial services (including machining, assembly, extrusion, tooling, coating, and others... Read more
Related Topics
Related Sectors