Machine shop setup tools are another of Ken Forging's specialties
August 10, 2018 REDWIRE is news you can use from leading suppliers. Powered by FRASERS.
Posted by Ken Forging
Drop Forged Industrial Hardware, Eyebolts, Nut Eyebolts, Rod Ends, Turnbuckles And Fittings, Eye Nuts, Clamps Wedges, Pa... Read more
Related Topics
Related Sectors
Subscribe
Free REDWIRE e-newsletter
Ken Forging produces a variety of machine setup tools.
Ken Forging has 48 years of service under its belt in the fastener and forging industries. As domestic manufacturers of drop-forged industrial hardware, we boast a comprehensive portfolio for all kinds of applications. This includes a wide range of machine shop setup tools, from setup wedges to strap clamps.
Quality setup tools are essential to smooth machining processes for such tasks as drilling, milling, boring, or shaping.
A broad selection of tools
Our broad selection of machine shop setup tools at Ken Forging help clients achieve problem-free machining. This lineup includes several types of strap clamps, including adjustable products with universal adjustable patterns and saddles. All are available in many sizes and typically made from drop-forged carbon steel, ASTM A521, Class CA.
Types include the following:
Setup wedges. Standard lengths range from three to eight inches, while widths go from one to 1⅝ inches and thicknesses go from ¼ to one inch at the thick end.
Strap clamps. Lengths from 5-1/16 to 12 inches; widths from 1⅝ to 2¾ inches. Capable of adjustments from 2¼ to 6¼ inches and can accept a maximum T-Slot bolt size from ⅝ to one inch.
Finger clamps and gooseneck clamps. Lengths go from four to eight inches; widths run from 1⅝ to 2⅛ inches; thicknesses range from ¾ to 1⅛ inches.
Plain clamps. Length from four to ten inches; width from 1⅝ to 2½ inches; thickness from ¾ to 1⅜ inches.
T-slot nuts. Threaded to the UNC-2B standard, these run from 1¼ to 2⅜ inches in length and 1⅛ to two inches in width. T-slot sizes go from ⅝ to 1¼ inches.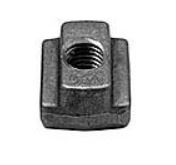 U-clamps. Lengths range from four to 12 inches in length and 1⅓ to 3¼ inches in width, with slot widths measuring from 11/16 to 1-1/16 inches.
We are planning a new line of clamps to our product list in the near future. Machine shop setup tools are one of many products we will showcase at Industrial Fastener Expo from Oct. 30 to Nov. 1 at Mandalay Bay in Las Vegas.
For more information, contact Ken Forging at (440) 993-8091, or visit the company website here.
---
Share
Posted by Ken Forging
Drop Forged Industrial Hardware, Eyebolts, Nut Eyebolts, Rod Ends, Turnbuckles And Fittings, Eye Nuts, Clamps Wedges, Pa... Read more
Related Topics
Related Sectors