L. & M. is a proven alternative manufacturer for offshore sourcing requirements
July 7, 2020 REDWIRE is news you can use from leading suppliers. Powered by FRASERS.

Posted by L & M Precision Products Inc
As the COVID-19 pandemic extends into summer, L. & M. Precision Products Inc. continues as an essential supplier for... Read more
Related Topics
Related Sectors
Subscribe
Free REDWIRE e-newsletter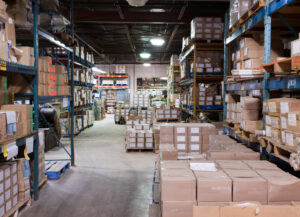 The L. & M. stock and release program is perfect for those who buy in bulk.
As the COVID-19 pandemic extends into summer, L. & M. Precision Products Inc. continues as an essential supplier for industry, remaining open to serve customers. Off-shore manufacturers have presented many supply challenges during this unprecedented time. In business since 1962, L. & M. has built a strong supply base and can react quickly to new orders, new clients and to any volume. A major advantage that the company can offer is its unique stock and release program.
Ample space for machinery, storage
With more than 64,000 square feet of space, L. & M. has room for an extensive range of production equipment – and for extra storage for finished parts. The diversity of its production equipment allows for quick adaptation toward production on most new jobs. The ample space for storage allows customers to order their machined components in bulk quantities and have parts available under the eye of the company's inventory management. This is an extra convenience for customers who want large quantities of parts, but do not need them all at once. L. & M. can store pre-ordered products for clients to release anytime within one year.
To take advantage of this stock and release program, a customer must commit to an annual quantity of parts to keep at the facility. The L. & M. team organizes everything with computerized inventory control systems that help it store every customer's annual product requirements and devise consistent release schedules. Whether the products are required weekly, monthly, or on a custom basis, the company can allow easy access to finished parts as required. L. & M. can store annual volumes of precision-machined parts, provided that each full order quantity is shipped within a year. Another advantage is that the pricing will remain consistent for all parts throughout that specific order quantity.
L. & M. customers get a full range of benefits by participating in this stock and release program. They partake not only of the company's elite custom-machining skills, but also of full storage and inventory management of the bulk order, plus top engineering and quality control. With its long-standing registration with ISO, L. & M. has earned its longevity and proven quality standards, with the expertise to make and store parts for most industries. Customers can rely on L. & M. to supply parts on time – every time – to any required schedule.
To learn more, contact L. & M. Precision Products Inc.
---
Share

Posted by L & M Precision Products Inc
As the COVID-19 pandemic extends into summer, L. & M. Precision Products Inc. continues as an essential supplier for... Read more
Related Topics
Related Sectors