Ken Forging returns to Fastener Fair USA, with new products
February 15, 2019 REDWIRE is news you can use from leading suppliers. Powered by FRASERS.
Posted by Ken Forging
Drop Forged Industrial Hardware, Eyebolts, Nut Eyebolts, Rod Ends, Turnbuckles And Fittings, Eye Nuts, Clamps Wedges, Pa... Read more
Related Topics
Related Sectors
Subscribe
Free REDWIRE e-newsletter
Last year's Fastener Fair USA in Cleveland was a big success for Ken Forging.
It's that time of year again. We at Ken Forging are getting ready to showcase our unmatched portfolio of drop-forged industrial hardware at Fastener Fair USA, running on May 22 and 23 at the Cobo Center in Detroit. This is the second incarnation of this trade show, which is expected to attract manufacturers, design engineers, purchasers, wholesalers, and other stakeholders from across the country.
Last year's Fastener Fair in Cleveland was a big success for our company, and we are coming to the 2019 show with a new line of C-clamps.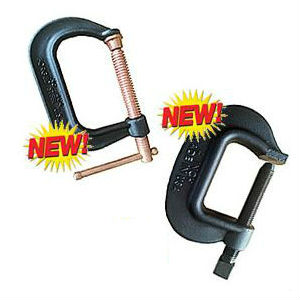 North America's largest manufacturing hub
Detroit is the perfect setting for Fastener Fair USA, as it locates the show in the centre of North America's largest manufacturing hub. Visitors should expect a comprehensive display of industry innovation combined with relevant education, along with opportunities to network with industry peers and fastener experts. The fair will showcase the latest products available for businesses in many industries, including aerospace, construction, HVAC, furniture, appliances, and the automotive sector.
In addition to a wide range of exhibitors, Fastener Fair USA will provide exclusive educational sessions for visitors. The Distributors Conference will feature seminars by experts in the fastener sector, offering best business practices, and the Tech Talks Theater will have the most recent technical processes and technology. Speakers include representatives from Brighton Best International, Innovative Components, and TR Fastenings.
For early arrivals, Fastener Training Institute is hosting a Fastening 101 course on May 21, focusing on automotive fastening. There will also be a Welcome Party at the GM Renaissance Center on the evening of May 22, to allow for further networking in a more relaxed atmosphere.
For a glimpse of last year's event, check out this video:
Among other products, the Ken Forging booth will display our new C-clamps, including our 100 Series, 400 Series, Deep Throat, and Heavy Service clamps. We invite you to drop by Booth 408 and find out how we can serve your business.
To learn more, contact Ken Forging at (440) 993-8091, or visit the company website.
---
Share
Posted by Ken Forging
Drop Forged Industrial Hardware, Eyebolts, Nut Eyebolts, Rod Ends, Turnbuckles And Fittings, Eye Nuts, Clamps Wedges, Pa... Read more
Related Topics
Related Sectors