Kason's VIBRO-BED fluid bed processor reduces cleaning and downtime significantly
January 11, 2023 REDWIRE is news you can use from leading suppliers. Powered by FRASERS.

Posted by Firing Industries Ltd
The business objective of FIRING INDUSTRIES LTD. is to consult with clients to select and supply technically complex PRO... Read more
Related Topics
Related Sectors
Subscribe
Free REDWIRE e-newsletter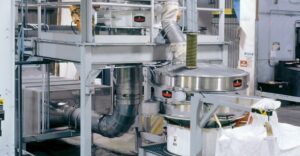 The VIBRO-BED in operation
Firing Industries Ltd. carries ample processing equipment by Kason Corporation, including the unique VIBRO-BED fluid bed processor. Recently upgraded by the Kason team with lighter materials and fewer welded seams, this compact, cost-saving solution helps businesses to reduce cleaning, production downtime, and maintenance expenses significantly. The VIBRO-BED is built for easy installation and packs a high-end punch when it comes to drying, cooling, and moisturizing applications for bulk foods, pharmaceuticals, and chemicals.
With compact circular design
What sets the VIBRO-BED apart from typical rectangular fluid bed processors is its compact circular design. This saves more on energy and maintenance costs while achieving higher product consistency. The energy efficiency of this design speeds up drying time by using the entire surface area, which maximizes airflow and leads to less waste and a more consistent product.
The lighter materials and fewer welded seams result in less cleaning time and maintenance costs, while the user-friendly, intuitive, programmable digital controls monitor humidity, pressure, temperature, and airflow to simplify the operation and allow offsite troubleshooting. The VIBRO-BED also saves floor space. Users get fast, cost-effective installation and conserve valuable space with seven compact models, ranging from 610 to 2,125 millimetres in diameter.
The VIBRO-BED has inherently strong and light construction that allows the Kason team to build it more quickly and finish it as per sanitary standards. This way, users get better lead times and easier installation for operations, either batch or continuous, seeking to dry, cool, or moisturize bulk food, pharmaceuticals, or chemicals. Kason provides free testing of any application in a VIBRO-BED unit at its Iowa facility, so customers can test their processes in the manufacturer's house equipment to help them get the most out of their operations, while getting quality analysis to demonstrate how dependable the device is.
Ideal for drying, cooling, scalping, agglomerating, moisturizing, de-dusting, or de-agglomerating applications, the VIBRO-BED processor is stronger, lighter, and more efficient than competing equipment is. Firing Industries offers many other innovative Kason processing solutions too, like screeners, powder-handling equipment, mixers, and sifters.
To learn more, contact Firing Industries' application-sales engineers at ddubuc@firing.com or (877) 688-0974.
---
Share

Posted by Firing Industries Ltd
The business objective of FIRING INDUSTRIES LTD. is to consult with clients to select and supply technically complex PRO... Read more
Related Topics
Related Sectors