Kason Corporation equipment is built to last, with expertise and craftsmanship
March 14, 2023 REDWIRE is news you can use from leading suppliers. Powered by FRASERS.

Posted by Firing Industries Ltd
The business objective of FIRING INDUSTRIES LTD. is to consult with clients to select and supply technically complex PRO... Read more
Related Topics
Related Sectors
Subscribe
Free REDWIRE e-newsletter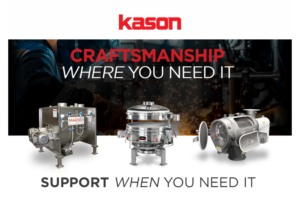 Longevity is a key advantage of Kason products.
Firing Industries Ltd. carries processing equipment from a wide range of manufacturers, including Kason Corporation, which has developed its reputation engineering mixers, sifters, and screeners that remain functional for decades. Kason builds its products to last, putting the highest priorities on mechanical expertise and careful craftsmanship.
With the aim that customers get the absolute most out of their investments, the Kason team understands the subtle yet crucial role its equipment plays in their greater operational processes.
Wealth of real-world knowledge
Kason employs application engineers who bring a wealth of real-world knowledge to their jobs, to optimize the process for every end user. These application engineers work with an average level of industry experience of a quarter of a century. With this knowledge combined with a high standard of craftsmanship, Kason customers have a good chance of retiring long before the company products do. With assistance from Firing Industries, Kason makes everything simpler for the customer with easy maintenance, cleaning, operation, and installation.
One way to help customers get the most out of Kason equipment, particularly the Vibroscreen or Centri-sifter, is by allowing them to test their specific applications at the Kason facility in Iowa. At this plant, businesses get accurate analysis to assure them that they are investing in high-quality equipment. Application testing offers other advantages on top of just trying before buying: Kason expert application engineers and laboratory technicians have helped to improve processes, from boosting throughput to minimizing mixing time, for all types of industries. Lab testing is a great way to get process-changing results.
One solution available is the largest vibratory screener in the world, the Vibroscreen, with a diameter of 100 inches. Customers can sift, classify, scalp, or dewater bulk solids and slurries with this circulatory screener, which uses the latest technology and provides exceptional quality, performance, and reliability across both simple and demanding tasks.
For a closer look at the Kason testing facility, watch this video:
To learn more, contact Firing Industries' application-sales engineers at [email protected] or (877) 688-0974.
---
Share

Posted by Firing Industries Ltd
The business objective of FIRING INDUSTRIES LTD. is to consult with clients to select and supply technically complex PRO... Read more
Related Topics
Related Sectors