Wall-mounted cleaning nozzle by Alfa Laval can tackle hard-to-reach areas
March 7, 2023 REDWIRE is news you can use from leading suppliers. Powered by FRASERS.
Posted by John Brooks Company Limited
John Brooks Company Limited: Fluid Handling Solution providers since 1938. For over 80 years, John Brooks Company has pr... Read more
Related Topics
Related Sectors
Subscribe
Free REDWIRE e-newsletter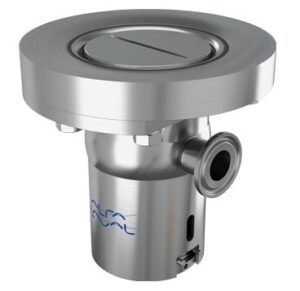 The PlusClean wall-mounted cleaning nozzle
For the best selection of fluid-handling solutions, businesses across the country turn to John Brooks Company Limited. The inventory includes many kinds of cleaning nozzles, including wall-mounted models for hygienic processes, manufactured by Alfa Laval. These units can handle hard-to-reach areas other nozzles cannot touch, cleaning all tank-cleaning shadow areas.
The PlusClean wall-mounted nozzle can clean underneath agitator blades, coils, and other difficult areas when the user combines it with top-mounted cleaning devices.
Lower water and energy expenses
This Alfa Laval wall-mounted nozzle can be installed either flush with a tank wall or at the bottom of a tank. It has an adjustable nozzle with an optimized high-impact spray pattern, which eliminates the risks associated with inadequate tank cleaning; this ensures a higher product yield, better product quality, and lower operating costs. Businesses can boost productivity, safety, and yield by reducing risk and contamination in their tanks with this nozzle solution.
Customers can choose between the standard media-driven PlusClean unit or the UltraPure version, both of which optimize the best spray patterns to suit any cleaning process, regardless of the tank size, design, or cleaning duty. Other options from John Brooks Company include a pneumatic model and control unit for process monitoring and feedback. Pressurized cleaning agents help this nozzle to target hard-to-reach shadow areas, which makes it ideal for such industries as dairy products, food processing, beverages, pharmaceuticals, personal care, and more. The PlusClean minimizes environmental effects and ownership costs by lowering water, energy, and cleaning-agent expenses.
With more efficient tank cleaning from the PlusClean, users improve process efficiency, safety, product quality, and yield. Batch and continuous process changeovers are quicker, safer, and free of contaminants with 100 per cent tank-cleaning coverage in shadow areas. Because of the optimized, high-impact spray pattern, there is no danger of product contamination. The nozzle is easy to install, operate, and clean, offering highly efficient, precision tank cleaning even at low pressures, with up to 80 per cent reduction in the use of energy, water, and cleaning media. Businesses get a fast return on their investments.
To learn more, contact John Brooks Company.
---
Share
Posted by John Brooks Company Limited
John Brooks Company Limited: Fluid Handling Solution providers since 1938. For over 80 years, John Brooks Company has pr... Read more