John Brooks Company recommends plunger pump for gas condensate challenge
August 11, 2021 REDWIRE is news you can use from leading suppliers. Powered by FRASERS.
Posted by John Brooks Company Limited
John Brooks Company Limited: Fluid Handling Solution providers since 1938. For over 80 years, John Brooks Company has pr... Read more
Related Topics
Related Sectors
Subscribe
Free REDWIRE e-newsletter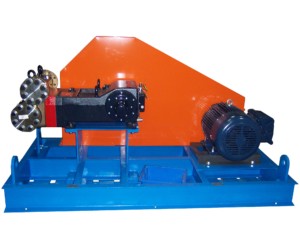 The Wanner/Hydra-Cell T100 reciprocating triplex pump from John Brooks Company
One of many customer success stories achieved by John Brooks Company Limited involved a major Alberta oil and gas company that had issues pumping a natural-gas (sour) condensate. This firm needed to pump the condensate with an inlet suction pressure of 580 pounds per square inch (psi) to retain its liquid state.
John Brooks Company collaborated with a Calgary engineering company to custom-design a seal-less plunger pump for this project.
No leakage of sour fluid
The discharge injection pressure was only 682 psi, which caused a 102-psi differential. For many standard pumps, this high inlet/suction pressure offered a challenge. The customer needed a special solution in a hurry, so John Brooks Company assigned two application experts to the task.
To handle the high inlet pressure conditions, John Brooks Company selected a Wanner/Hydra-Cell T100 reciprocating triplex pump. This economical seal-less pump was specially made of stainless steel, nickel, aluminum, and bronze to guarantee reliability and durability. The T100 series use lower horsepower motors to achieve the flow rates and pressures of other pumps, resulting in initial cost savings of 30-50 per cent. The seal-less design lowers maintenance and repair expenses. Each pump operates at 85-90 per cent energy efficiency, tolerates abrasive solids of up to 800 micrometres in non-ideal operating conditions, and usually runs up to 6,000 hours between lubricating oil changes.
Other key benefits of this pump series: diaphragms used as wetted components to move liquids instead of plungers; higher operational safety, as the seal-less design prevents leakage of sour fluid; no packing or external oilers required at low speeds, which boosts long-term cost savings; pull-out casing, which lowers maintenance expenses as maintenance can be conducted onsite without pump removal; and half the price of a comparable API 610 unit.
John Brooks Company supplied one duty pump and one standby pump in a timely fashion that met the customer's deadline. The results satisfied the oil company, with no leaks within the pumps, consistent flow through the process, and higher mechanical efficiency.
To learn more about this case study and others, visit the website.
For more information, contact John Brooks Company.
---
Share
Posted by John Brooks Company Limited
John Brooks Company Limited: Fluid Handling Solution providers since 1938. For over 80 years, John Brooks Company has pr... Read more
Related Topics
Related Sectors