Jacob QUICK CONNECT pull rings come with many strong benefits
May 4, 2021 REDWIRE is news you can use from leading suppliers. Powered by FRASERS.

Posted by Firing Industries Ltd
Firing Industries Ltd. offers tubing and pipework systems by Jacob, recommended for many food-processing facilities. The... Read more
Related Topics
Related Sectors
Subscribe
Free REDWIRE e-newsletter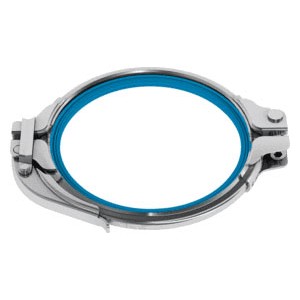 A QUICK CONNECT pull ring
Firing Industries Ltd. offers tubing and pipework systems by Jacob, recommended for many food-processing facilities. These systems can be assembled easily with QUICK CONNECT pull rings: unique and easy to use, with a high-quality design and every detail meticulously inspected.
Every ring in the QUICK CONNECT series is manufactured by Jacob with the perfect balance of stability and speed, with maximum tightness ensured.
With reduced assembly time
The design of these pull rings includes a curved clasp, which overlaps on the ring ends and an ergonomic grip to ensure that the closure, joint, and profile are tight, solid, and fast to apply. Jacob has designed the QUICK CONNECT series to blend both the standard lipped end of the pipe and a u-seal, which makes them easier to use than standard connections are. This way, users can dismantle, change, and assemble Jacob components easy and quickly – open, attach, and close – without sacrificing precision or speed.
Another key advantage of these pull rings is the reduced amount of assembly time, due to the wide and open profile. The QUICK CONNECT series is made with fixed bolts to make closure around the ends of pipes simple. When the fitting is complete and further tightness is needed, the user can quickly screw the adjustment bolt further for extra strength around the connection, so that goals can be reached rapidly.
After tightening, QUICK CONNECT rings offer high strength with a three-bar explosion pressure resistance when used with U-shaped seals. The ergonomic grip allows each ring to close easily and firmly and open with no injury risk. The rings snap into place simply and quickly.
Jacob also makes high-quality U-shaped seals, available from Firing Industries too and designed to be used with the QUICK CONNECT series to make sure there is a tight connection with two sections of a pipe are joined together.
Watch this video to learn about the different QUICK CONNECT pull rings available:
To learn more, contact Firing Industries' application-sales engineers at [email protected] or (877) 688-0974.
---
Share

Posted by Firing Industries Ltd
Firing Industries Ltd. offers tubing and pipework systems by Jacob, recommended for many food-processing facilities. The... Read more
Related Topics
Related Sectors