How Versa-Matic AODD pumps solved leak problem for chemical plant
November 22, 2021 REDWIRE is news you can use from leading suppliers. Powered by FRASERS.

Posted by York Fluid Controls Ltd
Is a leading stocking distributor of fluid transfer and process pumps, positive displacement and centrifugal pumps, liqu... Read more
Related Topics
Related Sectors
Subscribe
Free REDWIRE e-newsletter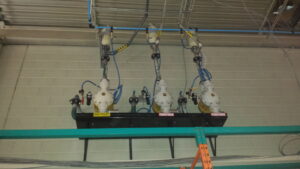 York Fluid Controls supplies Versa-Matic air-operated double-diaphragm pumps.
York Fluid Controls Ltd. supplies reliable, durable pump solutions by Versa-Matic, which offers a lengthy history of customer success stories. For example, a manufacturer of a highly corrosive chemical was experiencing leaks in its pumping system, which disrupted production and caused maintenance shutdowns and a serious occupational hazard for employees.
Here is how the plant reduced downtime, while boosting efficiency and safety, with two models of Versa-Matic air-operated double-diaphragm (AODD) pumps.
Better sealing and chemical resistance
The chemical producer relied on pumps to convey corrosive chemicals to production lines. But these pumps were designed with aluminum air sections that the chemicals damaged, and frequent leaks resulted in work shutdowns and safety issues. Management tried to extend the pumps' lifespans with repair, but this was just a short-term solution. An analysis revealed that the company needed new pumps with chemically resistant centres.
So the company contacted a local pump distributor, which recommended a new solution by Versa-Matic, which had vast experience with creating quality engineered solutions. The supplier recommended Versa-Matic's one- and two-inch bolted AODD pumps with plastic centres, which offered better sealing capability, chemically resistant material, wear-reducing components, and easy access to parts and accessories.
Several of these pumps were installed, and the customer instantly saw problem-free production lines with optimum efficiency. The long-term cost savings and return on investment were significant too. Today, the company relies on post-sales support from the Versa-Matic team of design and engineering experts, fast and convenient delivery, a broad variety of products with various construction materials, top customer service, and trusted partnership.
A sales representative with the distributor says he has been very impressed with Versa-Matic's constant management efforts over the last two decades. All of the manufacturer's staff go to great lengths to serve client needs, creating a positive atmosphere in which the biggest beneficiary is the final customer – who depends on the Versa-Matic brand of diaphragm pumps every day.
Versa-Matic can produce similar results for Canadian businesses with the help of the York Fluid Controls team. This supplier has been succeeding for 61 years.
To learn more, contact York Fluid Controls.
---
Share

Posted by York Fluid Controls Ltd
Is a leading stocking distributor of fluid transfer and process pumps, positive displacement and centrifugal pumps, liqu... Read more