How John Brooks Company improved dewatering at a gold mine
October 13, 2021 REDWIRE is news you can use from leading suppliers. Powered by FRASERS.
Posted by John Brooks Company Limited
John Brooks Company Limited: Fluid Handling Solution providers since 1938. For over 80 years, John Brooks Company has pr... Read more
Related Topics
Related Sectors
Subscribe
Free REDWIRE e-newsletter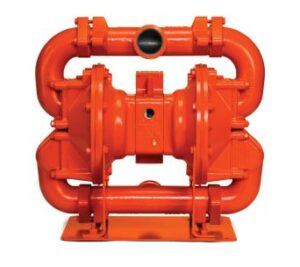 The Wilden Brahma T810 flap valve pump
One of the marks of credibility for a manufacturer is a long history of customer success stories, such as John Brooks Company Limited has. For example, the company once worked with a gold mine that was having issues with the pumps it was using for mine dewatering. By recommending the Wilden Brahma line of air-operated double-diaphragm (AODD) flap valve pumps, John Brooks Company helped the mine improve up-time while reducing service and maintenance expenses.
Less wear with flapping door
The mine was using two-inch air-operated double-diaphragm pumps for this task, but the ball check valves in these pumps could not seat, due to the solids content in the water. This caused the pumps to stall out, which shut down and delayed production. A new solution was needed to minimize downtime and keep operations moving.
So the company that ran the mine got in touch with Barry Norrish, a mining application expert with John Brooks Company. Norrish met with the customer to investigate these pumping issues and found that the current units could not handle some solids that were larger than one inch in size. What was required as a replacement were pumps that could pass two-inch solids and used fewer parts.
Norrish chose the Wilden Brahma T810, a two-inch AODD flapper pump designed specifically for maximum solids passage and high performance in demanding applications. This pump has a unique top-inlet and bottom-discharge orientation and uses flap valves to accommodate large solids without clogging; the valves help minimize pump damage from product entrapment and settling of solids in intermittent-duty tasks. The flapper opens and closes like a door, which reduces wear.
The T810 features bolted construction and can pass certain solids up to three inches in size. It is simple to maintain, externally serviceable, and fully submersible, which enables use in challenging applications like mine dewatering. The design has a large internal clearance and flow-through wetted path, and the pump handles suction lifts up to 7.6 metres (dry) or 9.3 metres (wet).
To learn more about this case study and others, visit the website.
For more information, contact John Brooks Company.
---
Share
Posted by John Brooks Company Limited
John Brooks Company Limited: Fluid Handling Solution providers since 1938. For over 80 years, John Brooks Company has pr... Read more
Related Topics
Related Sectors