High-pressure rotary shaft seals from Daemar offer lower friction, wear
March 25, 2022 REDWIRE is news you can use from leading suppliers. Powered by FRASERS.

Posted by Daemar Inc.
Daemar manages the sourcing and delivery of millions of Essential Components to the manufacturing and MRO marketplace. I... Read more
Related Topics
Related Sectors
Subscribe
Free REDWIRE e-newsletter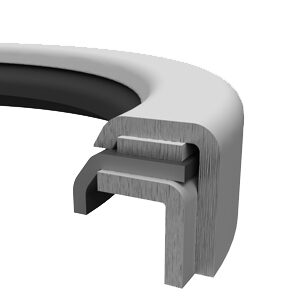 Four series of high-pressure rotary shaft seals are available from Daemar.
Daemar Inc. is the top source of essential components for industry, including several models of high-pressure rotary shaft seals. While standard shaft seals are made for pressure-free applications, these ones are designed for tasks in which machinery operates under high pressure, combined with the rotating motion of the shaft.
Among the benefits that users get out of these high-pressure rotary shaft seals: lower parasitic friction; lower heat buildup; less seal and shaft wear; lower torque generation; and less power generation required.
Effective, efficient sealing performance
These seals can withstand pressure loads like those in hydraulic cylinders, along with the added friction between the seal lip and shaft, heat, and wear of the seal lip – which can result in premature seal failure with typical shaft seals. Daemar recommends high-pressure rotary shaft seals for their effective, efficient sealing performance; their optimized geometries and design help them to perform well under pressure as high as 25 bar.
Each of these seals has a solid cross-section and is designed to seal a pressurized lubricant and possess hydrodynamic waves that encounter the pressurized lubricant. These liquid waves pump lubricant into the engaged sealing interface when the shaft spins, leading to lower friction wear, and seal-generated heat. The reduced seal temperature indicates improved retention of high-pressure extrusion resistance and other material properties.
Among the factors affecting the sealing are the type of seal carrier, clearance opening size, seal material, shaft rotary speed, belligerence of the hydrodynamic wave, the application temperature, and the amount of heat transfer. Specific models include the following:
BABSL premium medium-pressure double-lip oil seal. With an integrated steel reinforcement element and outer diameter cover with rubber for a tight seal with the housing bore.
Style HP1. Outer diameter from three to 53 centimetres; pressure up to five bar.
Style HP2. Outer diameter from three to 53 centimetres; pressure up to ten bar.
Style HP3. Outer diameter from 46 to 530 millimetres; pressure up to 25 bar.
Custom seal dimensions are available for specific applications and needs. Daemar can make these with short lead times.
For more information, contact Daemar.
---
Share

Posted by Daemar Inc.
Daemar manages the sourcing and delivery of millions of Essential Components to the manufacturing and MRO marketplace. I... Read more
Related Topics
Related Sectors