Heavy-duty flap valve pump by Sandpiper works for abrasive slurries
July 7, 2020 REDWIRE is news you can use from leading suppliers. Powered by FRASERS.

Posted by York Fluid Controls Ltd
For the country's top range of air-operated double-diaphragm (AODD) pumps, businesses rely on York Fluid Controls. The s... Read more
Related Topics
Related Sectors
Subscribe
Free REDWIRE e-newsletter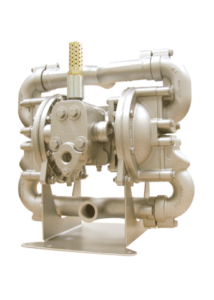 The Sandpiper HDF1 heavy-duty flap valve pump
For the country's top range of air-operated double-diaphragm (AODD) pumps, businesses rely on York Fluid Controls. The supplier offers a complete lineup of fluid-control solutions by Sandpiper – such as the HDF1 heavy-duty flap valve pump. This unit is recommended particularly for abrasive slurries, as well as suspended, non-suspended, or line-size solids. Each of these pumps is configured with bottom discharge porting, which stops settling solids from reducing pump life while creating better suction lift.
A wide variety of materials
The HDF1 comes in three variations that are thick-wall-constructed of sand-casted aluminum, cast iron, or stainless steel, while the diaphragms and check valves are made of elastomer and thermal plastic elastomer. The aluminum model has a shipping weight of 12 kilograms (kg), while that of the cast iron one equals 34 kg and that of the stainless steel pump is 36 kg.
This Sandpiper heavy-duty flap valve pump has a port size of one inch NPT and a capacity of up to 265 litres per minute. The air distribution valve has a no-lube, no-stall design, and the pump handles solids of up to 25.4 millimetres, with heads up to 125 pounds per square inch (psi), or 88 metres of water. The HDF1 also has a displacement/stroke of 38 per cent of a litre, as well as a maximum operating pressure of 125 psi.
A key advantage of investing in this heavy-duty flap valve pump from York Fluid Controls is the wide variety of materials in its full construction, with various respective benefits. Its 316 stainless steel offers high corrosion resistance, while the alloy C meets industry specifications for nickel and nickel alloy. Aside from metals, the HDF1 contains conductive acetal, EPDM, fluorocarbon (FKM), hytrel, neoprene, nitrile, nylon, polypropylene, PVDF, santoprene, UHMW PE, urethane, and virgin PTFE.
Among these materials' benefits: the acetal provides high abrasion resistance and low friction surface; EPDM offers good water and chemical resistance; FKM resists a broad range of oils and solvents; hytrel works with acid, bases, amines, and glycols at room temperature; and nylon provides high strength and toughness.
To learn more, contact York Fluid Controls.
---
Share

Posted by York Fluid Controls Ltd
For the country's top range of air-operated double-diaphragm (AODD) pumps, businesses rely on York Fluid Controls. The s... Read more
Related Topics
Related Sectors