HARTING mini Ethernet interface is ideal for infotainment on trains
April 5, 2021 REDWIRE is news you can use from leading suppliers. Powered by FRASERS.

Posted by Harting Canada Inc
One of the country's leading providers of industrial connectivity solutions, HARTING Canada works from its parent compan... Read more
Related Topics
Related Sectors
Subscribe
Free REDWIRE e-newsletter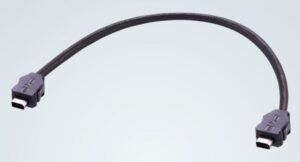 The latest HARTING connectors are lighter, smaller.
One of the country's leading providers of industrial connectivity solutions, HARTING Canada works from its parent company's 75-year tradition of constant innovation and improvement. Now, the organization is expanding its ix Industrial series of miniature data connectors with new cable assemblies designed for passenger information and infotainment systems and similar applications. This includes a mini Ethernet interface for these infotainment systems – blending the award-winning ix Industrial data interface with the EtherRail cable.
Lighter and smaller connector design
HARTING can now offer cable assemblies with Cat.6A performance of up to ten gigabits per second – meeting the strict standards of the railway sector. With a lighter and smaller design than that of similar circular connectors that are common in rail applications, this new connector has a snap-in locking mechanism that offers high mechanical stability and fast, tool-free connection to switches, monitors, on-board systems, and other devices.
The company also recommends this mini Ethernet interface as a compact and robust alternative to the RJ45 connector in industrial settings. The HARTING portfolio already includes sockets, industrial cable assemblies, field-assembled connectors, and Gigabit switches, and it will expand even more in the future. Customers can also choose among connectors that they can assemble in the field, as well as cable assemblies with angled cable entries. These options include "top" and "bottom" cable entries – a perfect solution for many scenarios, including space-critical tasks.
At the moment, HARTING is working on combining this Ethernet interface with its own PushPull locking mechanism, which will make the device even easier to use. What makes the PushPull so popular in the market is its simple handling and excellent protection. This development will continue to progress the trend of miniaturization in connectivity, while expanding the familiar format with a miniature version for ix Industrial type A (for Ethernet) and type B (signal). This will substantially decrease the needed space in the device side, even in applications that require an IP65/67 degree of protection.
Since 1945, The HARTING Technology Group has been manufacturing the world's leading connectivity solutions, which are also available in Canada.
For more information, contact HARTING.
---
Share

Posted by Harting Canada Inc
One of the country's leading providers of industrial connectivity solutions, HARTING Canada works from its parent compan... Read more
Related Topics
Related Sectors