Handheld pendant stations and handwheels by Euchner simplify machine operation
November 14, 2022 REDWIRE is news you can use from leading suppliers. Powered by FRASERS.
Posted by Advanced Motion & Controls Ltd
Advanced Motion & Controls Ltd. has been serving industry since 1986 as a major Canadian distributor of factory auto... Read more
Related Topics
Related Sectors
Subscribe
Free REDWIRE e-newsletter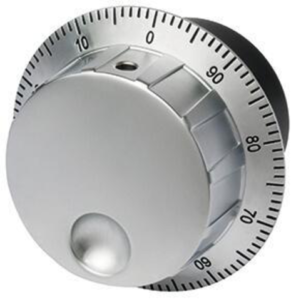 Euchner makes the HKB series of handwheels.
Euchner system solutions are available in Canada through Advanced Motion & Controls Ltd. Ideal for complex manufacturing concepts, these products have promoted safety for workers and equipment for nearly 70 years. The Euchner portfolio includes a variety of handheld pendant stations, as well as a number of handwheels with detent mechanisms.
In addition to supplying these products, the Advanced Motion & Controls team can provide custom assemblies for Euchner pendants.
Three styles of pendant stations
There are three styles of handheld pendant stations available – the HBA, the HBM, and the HBL. All three enable even easier, simpler machine operation, with ergonomic principles applied to their design to make them fit perfectly into user hands. The diverse product range covers everything from standard housings to pendant stations with a wide range of expansions upon client request. All three designs have an IP65 degree of protection as per the EN 60529 standard.
Advanced Motion & Controls carries 17 models of HBA handheld pendant stations, of which the housing received a design award in 2001. Also available are three models in the HBM series and two in the HBL series. The housing of each HBL model provides the largest installation space for control components, as well as a front panel and enclosing frame to boost safety.
Euchner manufactures five designs of handwheels – three of them (HKB, HKC, and HKD) white and wear-free with magnetic detent mechanisms, and two of them (HWA and HWB) black with mechanical detent mechanisms. All five offer 100 detents per revolution and 100 or 25 pulses per revolution. The HKB series and HKD series both suit installation in universal turning and milling machines for axis movement, while the HKB line is also perfect for flat machine panels and installation in small, light handheld pendant stations like the HBA and HBM models. The HKC handwheels have a flat design, and the HKD series can be installed in operator panels and Euchner HBL series of handheld pendant stations. The HWA series has centre-point fixing, while the HWB line has three-point fixing.
To learn more, contact Advanced Motion & Controls.
---
Share
Posted by Advanced Motion & Controls Ltd
Advanced Motion & Controls Ltd. has been serving industry since 1986 as a major Canadian distributor of factory auto... Read more
Related Topics
Related Sectors