Gorman-Rupp solids management system fixes clogging in municipality's sewage pumps
September 2, 2021 REDWIRE is news you can use from leading suppliers. Powered by FRASERS.
Posted by John Brooks Company Limited
John Brooks Company Limited: Fluid Handling Solution providers since 1938. For over 80 years, John Brooks Company has pr... Read more
Related Topics
Related Sectors
Subscribe
Free REDWIRE e-newsletter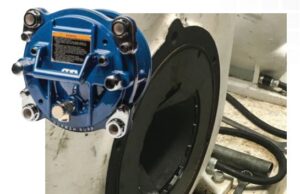 John Brooks Company resolved a municipality's sewage blocking problems.
John Brooks Company Limited has a long history of customer success stories, including a municipality in Canada that was having issues with clogging in its sewage pumps. "Flushable" wipes and rags were building up in the pumps, damaging the impellers and affecting the up-time of the sewage treatment system poorly.
This customer solved the problem with a Gorman-Rupp Eradicator solids management system from John Brooks Company, which eliminated clogging, improved up-time, and reduced after-hours service calls and their costs.
Designed to break up materials
Such blockages are common in municipalities today, with flushable wipes and non-flushable objects like gloves and masks clogging sewage systems. They lead to additional maintenance expenses because the pumps have to be unclogged frequently. To solve the issue, the customer contacted application experts at John Brooks Company.
The company recommended the Eradicator system, which is designed to work with compatible Gorman-Rupp pumps to break up materials and guide them through the pumps more easily. Gorman-Rupp has designed the Eradicator for sewage that contains sanitary wipes, plastic bags, latex gloves, disposable masks, feathers, hair, sludge, and other disrupting items. The system helps eliminate blockage while creating a more efficient flow path that lowers overall life-cycle costs.
The Eradicator has an aggressive, self-cleaning wear plate with notches and grooves, plus a patent-pending lacerating tooth, which help to break up stringy materials and pass them through pumps without affecting performance or interrupting production. If impeller inspection is required, a special back cover includes a patented lightweight inspection cover that users can remove easily.
Installing the Eradicator was easy, since the municipality already had two Gorman-Rupp T10 pumps installed. The system helped the customer cut service and maintenance expenses while eliminating unexpected downtime. The solution worked so well that the municipality decided to upgrade all of its Gorman-Rupp lift stations to Eradicator technology: another satisfied customer. John Brooks Company recommends the Eradicator Converter Kit for existing Gorman-Rupp Super T Series pump installations in which clog-prone material affects up-time and maintenance costs.
To learn more about this case story and others, visit the website.
To learn more, contact John Brooks Company.
---
Share
Posted by John Brooks Company Limited
John Brooks Company Limited: Fluid Handling Solution providers since 1938. For over 80 years, John Brooks Company has pr... Read more
Related Topics
Related Sectors