Daemar's fibre lube bushings enable true self-lubrication with corrosion resistance
April 5, 2023 REDWIRE is news you can use from leading suppliers. Powered by FRASERS.

Posted by Daemar Inc.
Daemar manages the sourcing and delivery of millions of Essential Components to the manufacturing and MRO marketplace. I... Read more
Related Topics
Related Sectors
Subscribe
Free REDWIRE e-newsletter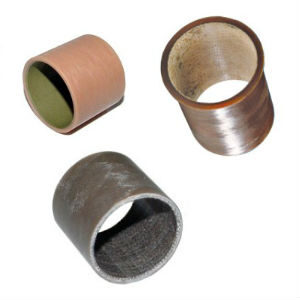 Two series of fibre lube bushing are available.
This year marks the 50th anniversary of Canada's top source of essential components for industry: Daemar Inc. This supplier carries an unsurpassed range of products, like seals, retaining rings, springs, caps, plugs, shim rolls, and other options for a broad variety of sectors. Another popular Daemar solution is fibre lube bushings.
With their many unique features and advantages, fibre lube bushings are recommended for use in long-term, highly loaded tasks.
For non-lubricated, high-load applications
Among the features of these composite bushings are their corrosion resistance and low friction values. In addition, they also enable true self-lubrication. Recommended primarily for non-lubricated, high-load applications in a broad range of climates and operating environments, Daemar carries the CJ/FCJ series of fibre lube bushings.
The CJ/FCJ line exhibits a high load capacity, not unlike that of bronze, powdered metal, and steel. Another key advantage is a longer operational lifespan with less wear, minus the cost of lubrication. In addition, these bushings tolerate mild shaft realignment without stressing the ends too much. Shock absorption is another notable benefit. The FCJ series is most suitable for material-handling equipment, packaging machinery, farm implements, marine pivots, robotics, business machines, and rides in amusement parks. The Daemar team recommends the CJ family for backhoes, front-end loaders, hitches, graders, mining equipment, vending machines, and nuclear power plants.
Each bushing in the CJ series has a multilayered structure, in which the innermost layer consists of a synthetic fibre/PTFE layer; the second layer consists of epoxy-coated high-angle glass filaments. The outermost layer consists of epoxy-coated low-angle glass filaments. The synthetic and PTFE fibres in the liner have been employed successfully as a bearing wear surface for rod-end and aircraft spherical bearings. The bearings' high-load capacity and dependability has made them the standard design in many scenarios.
The FCJ series comes highly recommended for combination motion-oscillatory, linear, and/or rotary applications, and it has an ability to run successfully against mild steel shafting that contributes to a cost-competitive system. With their versatility, these units are excellent general-purpose self-lubricating bearings.
Other slide solutions from Daemar include bearings, strips, and washers.
To learn more, contact Daemar.
---
Share

Posted by Daemar Inc.
Daemar manages the sourcing and delivery of millions of Essential Components to the manufacturing and MRO marketplace. I... Read more
Related Topics
Related Sectors