Daemar hammer unions create flow lines and also prevent leaks
July 22, 2020 REDWIRE is news you can use from leading suppliers. Powered by FRASERS.

Posted by Daemar Inc.
Essential components for industry: this is what Daemar Inc. offers to Canadian manufacturers. Among the company's offeri... Read more
Related Topics
Related Sectors
Subscribe
Free REDWIRE e-newsletter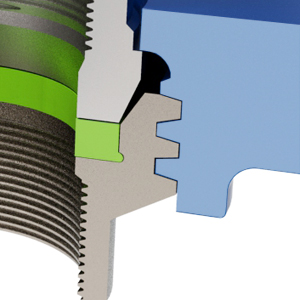 Hammer union seals work for many oil and gas tasks.
Essential components for industry: this is what Daemar Inc. offers to Canadian manufacturers. Among the company's offerings are shaft seals, including a line of hammer unions. These seals are used to create flow lines and prevent links in hammer-union-style pipe connections. Their proven design offers substantial user benefits.
Particularly effective in cold-weather applications, hammer union seals are built to enjoin mud tanks immediately, without managing flanged connections.
Heavy-duty, high-pressure flow-line connectors
Each of these seals has a thread end, a nut end, and a hammer nut, which compresses a composite seal assembly when cinched up to prevent leaks. This assembly consists of a metal insert sized to pass into the seal groove of conventional hammer unions and a small seal acting between the insert, thread end, and nut end. The small seal is usually an O-ring or seal of a size that gets compressed when the assembly is inserted into the thread end of the hammer union seal.
Hammer unions can still create non-leak seals that are tightened if the mud tanks are not aligned properly. These heavy-duty, high-pressure flow-line connectors are commonly used in the oil and gas, steel, chemical, strip-mining, and marine-dredging sectors. Daemar supplies these seals in both standard and anti-extrusion designs.
For optimum performance, these hammer union seals have two proven designs. Primary seals for high-pressure services – 6,000 to 20,000 pounds per square inch – have replaceable, lip-type seal rings in the female subs, and they protect secondary metal-to-metal seals from abrasion and corrosion while reducing flow turbulence. Designed for abrasive, high-pressure hammer-union services in which welded connections are discouraged, non-pressure seal thread seals have a design that offers strong, permanent end connections without butt welding. These seals also have special rubber seal rings for positive sealing with minimal torque.
Hammer union seals are engineered for the oil and gas industry and constructed to work all year round. Common applications are cementing, fracturing, acidizing, testing, and choke-and-kill lines. For cold weather, they are manufactured with low-temperature-rated Nitrile Buna rubber, which allows a single-seal option to minimize confusion in seal selection.
To learn more, contact Daemar.
---
Share

Posted by Daemar Inc.
Essential components for industry: this is what Daemar Inc. offers to Canadian manufacturers. Among the company's offeri... Read more
Related Topics
Related Sectors