CNC machining service from Ohio Broach offers precision and versatility
February 28, 2023 REDWIRE is news you can use from leading suppliers. Powered by FRASERS.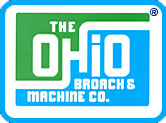 Posted by The Ohio Broach & Machine Co.
If you're looking for accuracy, efficiency, flexibility, and economy in the production of metal parts, broaching i... Read more
Related Topics
Related Sectors
Subscribe
Free REDWIRE e-newsletter
Ohio Broach uses CNC equipment for broaching.
The Ohio Broach & Machine Company has a wide range of in-house equipment that allows it to offer virtually every possible broaching technique to clients – including CNC equipment. Through its CNC machining service, Ohio Broach's skilled team can produce almost any shapes a customer may need, even irregular ones.
For an endless range of forms, Ohio Broach relies on a four-axis, CNC-controlled machine with unlimited movement and specific tool design.
Removing material with precision
With this CNC shaping equipment, users can remove material from parts with precision. The staff can easily produce different shapes and forms in blind holes and against shoulders through this service. This capability is ideal for small-to-medium-sized lots for timely needs, with minimal investment in fixturing or special tools. Ohio Broach has used its CNC machine to produce a broad variety of parts, including steering drive components for trucks and electrical connector sleeves.
The company sells two models of this machinery to broach similar parts, since some customers prefer to perform their own CNC broaching privately. For example, Ohio Broach manufactures a single-spindle shaper for broaching electrical connector sleeves, with a special high-speed shaping tool conformed to their differents slots. The shaper head can move at 600 strokes per minute for a two-inch stroke and continue cutting into a part until it reaches a specific depth, before the part indexes into the next slot to be broached.
One customer broached steering drive components with a CNC shaper machine with a dual shaper head and dual servo-driven indexing tables. This model can finish two components simultaneously, with a minute-long cycle for a six-splined internal shape. The dual shaper head can stroke up to 600 times per minute and carries a single-edge, special-form carbide insert on every station. One servo motor drives the dual station index table. Ohio Broach provided two of these machines to meet the client's desired annual production volume.
To see Ohio Broach's CNC machinery in action, check out the video below:
For more information, contact Ohio Broach.
---
Share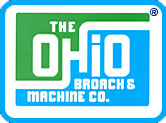 Posted by The Ohio Broach & Machine Co.
If you're looking for accuracy, efficiency, flexibility, and economy in the production of metal parts, broaching i... Read more
Related Topics
Related Sectors