Capitol Industries gets expanded production capabilities with its equipment range
September 25, 2020 REDWIRE is news you can use from leading suppliers. Powered by FRASERS.

Posted by Capitol Industries Inc.
A leader in the design and manufacture of engineered locking products, especially in the area of auxiliary and cam locks... Read more
Related Topics
Related Sectors
Subscribe
Free REDWIRE e-newsletter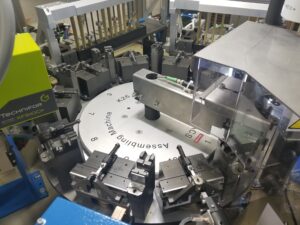 Various equipment helps Capitol Industries offer a broad variety of services.
A leader in the design and manufacture of engineered locking products, especially in the area of auxiliary and cam locks, Capitol Industries Inc. relies on a broad inventory of equipment. This machinery range enables a variety of products that the firm designs, creates, and assembles in its ISO 9001:2015 Montreal facility.
By continually expanding and upgrading this equipment, Capitol expands itself and its services to find better innovations for clients who need stronger security solutions.
From tooling to finishing
Recent additions to the Capitol equipment family include automated key bitting and plug-assembly machinery. The team has made significant capital investments in this equipment, which expands the company's abilities, substantially reduces overhead costs, and improves lead times. Capitol prioritizes investment towards the future and constant improvement, keeping current on technological progress and industry demand in engineered locking products. This helps the company compete more equitably with overseas suppliers and shorten its supply chains for customers.
The range of equipment in which the company has invested over the years allows it to provide the following extra customer services:
Tooling and tooling design – Better precision tools that meet the specifications of quality-conscious clients across the continent.
Die casting – Millions of castings produced per month, with the assistance of 18 multi-slide machines and 17 conventional die-casting machines, which can tackle any job size and all complex shapes.
Secondary operations – Capitol offers customized machining operations, with its in-house machining centres that comply with strict specifications. Other services: tapping, drilling, milling.
Finishing – The highest quality of finishing processes in the industry results from Capitol equipment. The firm makes millions of brass, nickel, copper, zinc, chromate, antique, olive drab, yellow chromate, and power-coating parts every year. Examples of finishing methods: electroplating, paint and lacquer, relieving, assembly, and packaging.
With this range of machinery and equipment, Capitol supplies a range of engineered locking products that is unmatched in North America. And with its new key bitting and plug-assembly equipment, the company is ready to embrace the future and expand its already impressive range of locking solutions.
For more information, contact Capitol.
---
Share

Posted by Capitol Industries Inc.
A leader in the design and manufacture of engineered locking products, especially in the area of auxiliary and cam locks... Read more
Related Topics
Related Sectors